Country Music Awards 2013: 5 Artists Changing Everything You Know About Country Music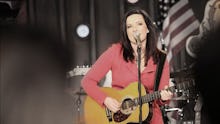 Country music hasn't been the most dynamic genre over the last few years. Thematic elements have been recycled to the point of extreme cliché — heartbreak, trucks, dogs, and booze — and much of the genre has lacked originality. Although 'bro-country' currently dominates the genre, there are new artists taking up the torch to bring thought-provoking — and long absent — messages back into the country world. Here are five modern country music artists that are working to change country music stereotypes.
1. Brandy Clark
Brandy Clark's new album, 12 Stories, is getting rave reviews from major publications and seducing fans everywhere. While maintaining a true country sound, Clark delivers gripping stories and heartfelt melodies about drugs, adultery, murder, and more through her wonderful portrayal of flawed, yet relatable characters.
2. Brad Paisley
Brad Paisley has taken an amazing step forward by using his music to address issues currently plaguing much of country music. Having the courage to step up and address racism in a culture and genre that can occasionally come across as unwelcoming and hostile is incredibly admirable.
3. Kacey Musgraves
Kacey Musgraves' Follow Your Arrow is the perfect 21st century message. Not many artists can write a song that dishes out substantial life advice while remaining this down-to-earth:
So, make lots of noise, kiss lots of boys.
4. Wade Bowen
Wade Bowen's "Songs About Trucks" is hilariously spot on. It's always impressive when an artist can write a successful song that pokes fun at its own genre. The song's message is reminiscent of the rap artists in the late 90s that insisted on creating music free from the influence gang-violence.
5. Miranda Lambert
Although this song may have been written by three other country artists, two of whom are featured on this page (Brandy Clark and Kacey Musgraves), it's a good sign that a country artist as successful as Miranda Lambert will take on a song with more grit than the usual standard.