'Double Down: Game Change 2012' Confirms Mitt Romney Thinks Fat People Are Hilarious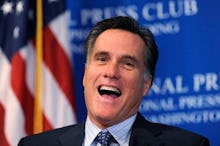 It's no secret that former presidential candidate Mitt Romney was a childhood bully.
A year ago, Romney's classmates from high school recounted his reputation as a prankster, but also ended up telling some deeply troubling stories. It culminated with Romney's attack on a presumably-homosexual classmate. When the student arrived to school after a holiday sporting bleached blond bangs, Romney told friend Matthew Friedemann that "he can't look like that." A few days later, Romney tackled the student on the quad, pinned him down and cut off his hair with scissors while the kid, scared for his life, yelled for help.
It's a story about vicious anti-gay bullying, but many Romney supporters chalked it up to youthful exuberance. However, it seems that Romney's habits have not changed, long into adulthood.
The recent book Double Down: Game Change 2012, by journalists Mark Halperin and John Heilemann, recounts how Romney also made fun of potential running mate Chris Christie. In the official campaign memos, Christie was rejected as a vice-presidential candidate for a variety of reasons, including his "medical history." But in practice, Romney apparently verbally "marveled at Christie's girth" quite often, turning Christie's public appearances into a game for his political aides and laughing, "Guys! Look at that!"
Even the average pedestrian isn't above Romney's snarks. On campaign trips, if the team would pass a "chunky" woman, Romney would chuckle to his male staffers, "Oh, there's your date tonight."
Prejudiced and mean, exactly the qualities you want in a potential president.