German Police Raid Recovers $1 Billion in Stolen Nazi Art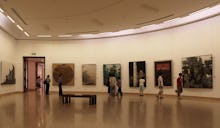 George Clooney's latest movie, The Monuments Men, is a drama to be released February 2014 about an American WWII platoon tasked with going behind enemy lines to re-capture priceless pieces of art stolen by the Nazis. It could not be any more timely.
The German newspaper Focus reported on Monday that German officials found and confiscated an enormous trove of hidden Nazi art in 2011. The story was kept hidden from the public for two years.
Customs and other officials meticulously went through the collection of art hoarder Cornelius Gurlitt, who is believed to have inherited the collection from his father, German collector Hildebrand Gurlitt. It contains a total of 1,500 works including paintings by Henri Matisse, Pablo Picasso, Marc Chagall, and many others.
The total value of the art is estimated at nearly $1.4 billion, making the find the largest post-WWII art cache to be recovered. The discovery was made after officials found 9,000 euros in Cornelius Gurlitt's possessions while on a train from Switzerland to Germany in 2011. Officials suspected the cash was from an illegal art deal, and after finding out Gurlitt had lived unregistered in Munich for decades, they decided to search his apartment. The art was found hidden among a pantry of food.
Nazi secret police tracked down and confiscated thousands of pieces of art in the 1930s and 1940s. Degenerate art, as it is called, was stolen from Jewish art collectors prior to WWII. Much of the art was lost or destroyed, but as was proven this week, much remains. 
George Clooney is the biggest winner in all this. He now can direct and produce the eventual The Monuments Men II — but set today.