Professional Athlete Severely Beats His Girlfriend — Media Responds With Concern About His Upcoming Season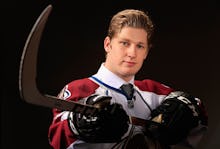 On Sunday, the New York Times published an article about the arrest of the Colorado Avalanche's starting goaltender Semyon Varlamov. It focused almost exclusively on how his arrest might impact the team's season. "Arrest of the Avalanche's Goalie Casts a Shadow on a Promising Season," the Times's headline read. 
Underplayed was the fact that the 25-year-old goaltender's girlfriend, Evgeniya Vavrinyuk, was discovered by police thoroughly beaten and covered in bruises, according to the New York Times and Yahoo Sports. In an account given by Varinyuk to the Denver police, Varlamov was highly intoxicated, laughing, kicking her and dragging her around the house by her hair.
"While he was doing it, he was having a lot of fun, he was laughing," she commented through Diane Senova, a Russian interpreter. Instead of focusing on the alleged abuse, the New York Times highlighted the impact the arrest might have on the team and their success. They also interviewed first-year coach Patrick Roy, who decided that Varlamov would remain in the starting lineup.
As with the cases in Steuebenville, Ohio and Maryville, Mo. we must question the relationship between sports, rape, and sexism. Clearly, the New York Times' was much more concerned with sports. By maintaining this focus, the Times continues a tradition of ignoring the victims of athletes while giving more attention to their famous abusers.