Mike Michaud Gay: Coming Out Might Be the Best Move Of His Career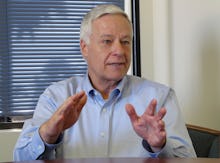 Maine gubernatorial candidate Rep. Mike Michaud (D) responded to a vicious rumor campaign against him by openly admitting he was gay, according to queer news outlets all over the country. The six-term representative for Maine's Second District is running against incumbent Tea Party favorite Paul LePage who opposes gay marriage, despite the fact the people of his state voted in favor of marriage equality.
"[The LePage Campaign] want[s] people to question whether I'm gay," wrote Michaud in an op-ed that in the Portland Press, the Bangor Daily News, and the Associated Press. "Allow me to save them the trouble with a simple, honest answer: Yes I am. But why should it matter?"
And that's a very good question. According to a poll published by the Bangor Daily News, only 677 of the 4,148 respondents answered that sexuality makes a difference when deciding who to vote for. Michaud himself seems to be arguing quite fervently that his orientation should not impact voters. He announced, "I haven't changed, I'm still Mike."
Michaud's proclamation presents a huge lobby for him. Now, media outlets such as the Advocate that might typically have not paid attention to him will openly support his bid.
Undoubtedly, gay lobbying firms that seek to ensure more queers in office will give him financial help and publicity. As sexual orientation doesn't seem to matter to the average Maine voter, the advantages the candidate gained will definitely give him an edge. It's rather ironic when you consider that his statement was a response to a rumor campaign initiated by his opponents.
Though a long-time ally to the queer community while in Congress, being an ally and being gay are very separate. Until recently, admitting to being gay was akin to political suicide. According to the Huffington Post there have been at least 25 politicians from senator to sheriff who have been involved in gay sex scandals with disastrous political implications – usually resulting in their resignation.
It looks like Lepage's gambit has rebounded.