NYC Mayoral Race 2013: Why New Yorkers Don't Care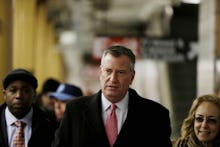 It's that magical day again. That day that only comes once a year and fills us all with wonder and awe.
Election Day.
When it comes to the New York mayoral election, the first Tuesday of November seems to feel a little different than that of years past.  But there's no excitement surrounding the results to be announced later today, largely due to the fact that we've known who's going to win for quite some time. Since winning the Democratic nomination back in Sept., front-runner Bill de Blasio has maintained a huge lead over Republican candidate Joe Lhota.
According to the most recent NBC 4 New York/Wall Street Journal/Marist Poll, the Democrat has a 41% lead over his Republican counterpart.
Back in September, Lhota promised to overcome the challenge he faced, if he had any hope in becoming the next mayor. But despite stories of DeBlasio's support of the Nicaraguan Sandinista party and his trip to the USSR, nothing has seemed to sway the opinion of the voters. None of the attacks launched by Lhota had the effect he hoped for.
Why is that?
It's quite possible that New Yorkers are just sick of the election and just want the whole thing to be won and done.
Image credit: Metropolitan Transportation Authority
After all, this race has had more than its fair share of media coverage, which is saying something in this day and age.
In the beginning, Christine Quinn hit it off big with a New York Magazine article weeks before she made her bid for City Hall official. Quinn, who would have been the first female and lesbian mayor, went on a media blitz in the weeks that followed. 
Anthony Weiner re-emerged from the political dungeons and at one point came dangerously close to taking the reins away from Bloomberg. But after another sexual scandal came to the surface, those hopes dragged his numbers down to John Liu status.
In addition to the mayoral race, New Yorkers had to deal with a hotly contested race for the Democratic city comptroller after Eliot Spitzer tried to get back into political office.
By the time the primaries finally came about, New Yorkers were already exhausted from the media blitz.
Only 20% of eligible voters decided to get out and do their civic duty. When the candidates for both parties were finally decided, de Blasio had a >40% lead over Lhota, the same one he still holds today.
New Yorkers simply lost interest in the race after that.
Besides passively ignoring the elections, New Yorkers are also making an active decision to pay no mind to the candidates, as evidenced by the fact that each debate between de Blasio and Lhota saw lower ratings with every clash.  
Unless dramatic revelations about de Blasio become public in the next few hours, he'll be the next mayor.
New Yorkers couldn't be happier because they won't have to hear about it for the next three years.