SCOTUS, Don't Break My Heart Again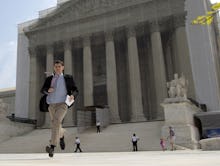 Oh SCOTUS, why must you toy with me?!
On Monday, the United States Supreme Court dismissed a case to appeal an Oklahoma Supreme Court decision that protected the use of the RU-486 abortion pill in the state. This is a small victory on what looks to be the newest front of the pro-choice vs. anti-choice fight, medication-induced abortions, but pro-choicers hope the implications foreshadow future decisions — particularly with Texas' House Bill 2, which would shut down most of the abortion clinics in Texas, barreling toward the Supreme Court. However, this ruling may offer a false sense of security. I don't know about you, but the Supreme Court of the United States has pretty much had me on an emotional see-saw ALL YEAR.
Before we get into ups and downs and ups of my unstable relationship with SCOTUS, I want to first acknowledge that I am very aware of my bias towards the liberal female judges: Ruth Bader Ginsburg, Sonia Sotomayor, Elena Kagan ...
... Oh, and Stephen Breyer. My lean to the left is not a secret.
The emotional roller-coaster this year's SCOTUS dock sent me on began in June:
As Spike Lee taught us in Do The Right Thing, the summer heat gets to people. First, Clarence Thomas compared affirmative action to segregation and slavery, and blamed Yale's move towards the use of the policy for devaluing his degree. He estimated it was now worth around 15 cents. FIFTEEN CENTS. Then, continuing the destruction, the Voting Rights Act was completely gutted, which has already had a catastrophic impact on civil rights.
Then, just when I'm ready to follow Alec Baldwin and Eddie Vedder to Canada, we get the Proposition 8 and Defense Of Marriage Act decisions. And my heart melts and my eyes tear as I go to the New York City Gay Pride Parade and see Edith Windsor leading the charge:
Image credit: Joe My God
The elation continued through late August when my imaginary grandma, Ruth Bader Ginsburg, became the first Supreme Court Justice to perform a same-sex marriage. I LOVE THE SCOTUS.
But then, New York Magazine interviewed Antonin Scalia and I'm back down. Justice Scalia made some now-infamous comments about his belief in the devil, his fervent devotion to Catholic teachings, his opposition to homosexuality, and basically admitted he doesn't care if in 50 years he's seen as a behind-the-times bigot. His apathy about being wrong about decisions that impact people's everyday lives is completely disheartening. How is this Scalia the last stop before something becomes a law?
Fast forward to today. Pew Research found Sonia Sotomayor to be one the most important Hispanic leaders in the United States today. Her poignancy and honesty reminded me what a Supreme Court Justice should be, and I'm back on board.
When you factor in the increasing ages of a few of the justices, Anthony Kennedy's swing vote, and the fuzzy lines on states' rights, I am in serious need of some herbal tea and a yoga session.
So, yes, as an advocate for women's rights, I am happy about SCOTUS's decision to reject hearing an appeal of the Oklahoma Supreme Court's decision on medical abortions. But given SCOTUS's erratic track record, over the past year, any conclusions should be taken with a grain of salt. And maybe some of that herbal tea.