14 Things That Were True the Last Time NYC Elected a Democrat Mayor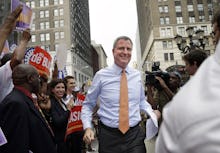 Democrat Bill de Blasio seems set to win New York City's mayoral election by a landslide, as he remains 40 points ahead of Republican Joe Lhota in recent polls. De Blasio's success may seem like a foregone conclusion, given that New York City is a liberal stronghold, but the truth of the matter is that the city hasn't elected a Democrat as mayor since David Dinkins won his term 24 years ago in November 1989. In order to give you an idea of just how long ago that was, here's a list of 14 things that were true the last time New York elected a Democrat to serve as hizzoner.
1. The Berlin Wall Was Still Standing
David Dinkins was elected on November 7, 1989. The Berlin Wall would begin to fall just days later. Coincidence?
2. Neil Patrick Harris Had Just Become Doogie Howser
The first episode of Doogie Howser, M.D. aired on September 19, 1989.
3. George H.W. Bush Was President
4. George W. Bush Was Part-Owner Of the Texas Rangers
5. Mary-Kate and Ashley Olsen Looked Like This
6. Michael Keaton Was Still Batman
7. The Central Park Jogger Case Had Not Yet Been Tried
8. Madonna's 'Like a Prayer' Video Was Still Scandalizing Easily Scandalized People
Because MTV was still showed videos.
9. A Subway Ride Cost $1
And you had to use tokens.
10. Mikhail Gorbachev Was Furiously Attempting to Reform the Soviet Union
Spoiler alert: it didn't really work out.
11. Nintendo's Game Boy Was Released in North America
12. A Still-Unknown Man Bravely Stood Down Tanks in Beijing's Tiananmen Square
13. The First Episode of 'The Simpsons' Hadn't Yet Aired
The "bad old days" that Lhota keeps invoking? A world without The Simpsons.
14. 1,905 People Were Murdered in New York City
In comparison, there were only 414 murders last year.
15. Tim Berners-Lee Had Just Conceived Of the World Wide Web
And nobody got anything done ever again.