Dove Isn't Just Sexist, It's Racist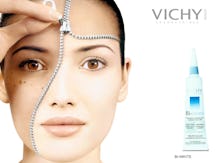 I was 15 and visiting a cousin in India when I saw my first container of skin-lightening cream.
Although I found it slightly puzzling, I had no idea what it represented in terms of deeply ingrained social issues, with long roots in Indian history. I also didn't realize how strong the pressure was on everyone, but especially women, to conform to a certain measure of beauty in which fair skin was an essential ingredient.
What I did notice were the brand names plastered across these products: the majority of them were produced by Garnier, brand most Americans are very familiar with.
Garnier, turns out, is actually owned by L'Oreal, revered French conglomerate and the world's largest cosmetics corporation. However, L'Oreal is far from being the only European or American-owned corporation running skin-whitening campaigns in Asia. One of the main backers is Olay, a company whose slogan was once "Love the Skin You're In."
Perhaps most surprising is the British- and Dutch-run company Unilever's influence over the whitening market in Asia, the same consumer goods company that owns Dove.
Remember when Dove was the subject of debate after their "Real Beauty Sketches" campaign? We celebrated the company so selflessly not directly advertising their products. We also criticized the campaign for being exclusive in its depiction of beauty. Still, for the most part, we looked to Dove' as a source of refreshing encouragement and self-esteem promotion in a world where advertising usually aims to pull you down.
But the truth is, Unilever (who also own Vaseline, Pond's, and Fair and Lovely), demonstrates hypocrisy and inconsistent marketing strategies, and sadly prioritizes the maximization of their profits over the well-being of their customers.
Yes, India has long struggled with the issue of whiteness in relation to class and beauty standards. The exact origin of the instillation of the "fair is better" mentality is still up in the air, but most people can agree that it worsened (even if it didn't originate) with colonialism. What we haven't collectively realized is that those colonial ideals are still being driven through the operations of these beauty brands.
Our generation is supposed to be one of progress, so the prevailing discrimination against darker skin in Asian countries raises the question of why this one ridiculous issue still exists. The answer? Beauty brands are making the situation worse, by reiterating the idea that fair skin is the most desirable physical feature someone can possess.
While concerned citizens in India, for example, are running the "Dark is Beautiful" campaign, advertisements such as this one by Olay target young women the Philippines.
Notice how the company portrays fairness as imperative to the girl's romantic happiness?  
The issue is no longer historical or religious: It has become almost completely commercial. What was once a philosophy leftover from a more archaic time is now kept alive through a cosmetic industry bent on making consumers feel that they're not good enough, much like the prize of thinness in North America.
In fact, it's exactly the same.