Chris Christie Bullies Teacher, Learns Nothing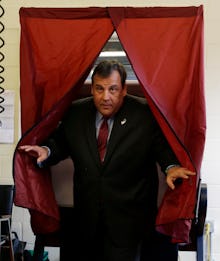 Even though it was a Saturday, dedicated New Jersey elementary school teacher Melissa Tomlinson found herself doing her job. In 2011, under the leadership of Governor Chris Christie, New Jersey passed some of the toughest anti-bullying legislation in the country: the Anti-Bullying Bill of Rights. According to the Newark Star-Ledger, public school teachers are now required to report "all [bullying] incidents they learn of, whether they took place in our outside of school."
And reporting bullying is precisely how Tomlinson found herself writing a letter in response to Christie, after he screamed, "I am tired of you people. What do you want?" in her face during a campaign stop in Somer's Point, N.J.
"You people," in this case, would be "concerned teachers," and according to Tomlinson's letter, "what they want" would be for Christie to stop vilifying teachers, to stop cutting funding to schools, and to allow teachers to spend more time focusing on skills, rather than teaching toward the New Jersey Assessment of Skills and Knowledge, a standardized test.
Tomlinson had asked Christie why he continues "to spread the myth that our schools and teachers are failing." It seems like a fair question, given that despite the $1-billion-plus Christie has cut from education, New Jersey's schools still seem to be outperforming those of other states. This isn't the beginning or the end of Christie's outlandish, bullying behavior. In the past, the governor has defended his adversarial stance toward teachers with the fightin' words "We're from New Jersey and when you're from New Jersey, what that means is you give as good as you get."
(Odd, then, that Christie's rhetoric seems to have been knocked off from New Jersey's ever more chic neighbor, New York.)
It's time for politicians in general, and Christie in particular, to stop scapegoating the same public employees whose hard work they depend on for their states' — and their children's — success. If Christie doesn't want to be questioned by educators, he may want to stop railing at them, and start working with them, as Tomlinson pointed out in an interview with MSNBC's The Ed Show.
Unfortunately, Christie is unlikely to do so. He's expected to win today's gubernatorial election by a landslide. Expect more gape-faced screaming, anecdotes about old women who use the words "lord" and "shit" in the same sentence, and tired, circus-like flaunting of an overdone New Jersey attitude.