Northwestern Football to Don Blood-spattered Uniforms Against Michigan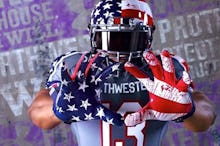 Sports apparel giant Under Armour has teamed up with Northwestern University to create what they are calling the Wounded Warrior special edition uniform. As its name implies, the uniform is intended to honor veterans, in particular those who have served over the last decade or so. The uniforms are aimed at raising support for the Wounded Warrior Project.
The uniforms are primarily grey, and boldly feature an American flag motif on the shoulder pads, gloves, legs, and helmets. Additionally, instead of players' names, the uniforms will display one of seven symbolic words: duty, honor, commitment, courage, service, integrity, or country. The most striking idiosyncrasy of Northwestern's new uniforms, however, is the blood spatter that highlights much of the uniform.
Northwestern plans to debut the uniforms in its Nov. 16 match-up against the University of Michigan, and intends to donate 100% of the proceeds from the auction of the original uniforms to the Wounded Warrior Project. Additionally, the school announced on Twitter that it has decided to donate 10% of all replica jersey sales as well.
While Northwestern's new uniforms are a bit on the garish side, they are certainly not the only over-the-top special edition uniforms. One need only to look at Notre Dame's Shamrock Series uniforms over the past few years, or the pink uniforms Oregon wore in its match-up against Washington State in October. Even Oregon's regular season uniforms are over the top.
More importantly, however, is that these uniforms do a great job of honoring the Wounded Warrior Project and the many veterans of America's military operations. In fact, the juxtaposition of a bloodied uniform on a strong and disciplined (both physically and mentally) body is in some ways a perfect representation of our veterans, who remain strong even in the face of danger, despite sustaining injuries which could easily erode their willpower and resolve to live life to the fullest.