Where to Vote Boston: Find Your Polling Site With This Handy Tool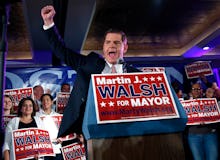 Want to be part of Boston's historic mayoral race, but not sure where you need to go to cast your vote? Fortunately, Boston's Election Department has you covered. Just type in your name and birth date into this handy tool, and it will give you your polling location. Pretty cool, huh?
If you feel strongly about this race, you'd better get out and vote. The latest polls show the race is nip and tuck. What are you waiting for? You only have until 8 p.m.!