Thankfully, Bradley Byrne Defeats Dean Young in Alabama Special Election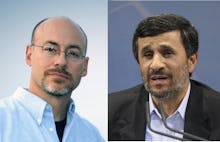 We should all celebrate the electoral success of Republican former State Senator Bradley Byrne in Alabama, Northeastern liberal elites included.
Why, you ask? Because Byrne's opponent, Dean Young — Tea Party affiliate, conservative activist, conspiracy theorist, and bigot — lost.
On Tuesday, Byrne won the primary runoff in the state's overwhelmingly right-leaning first congressional district, and became the Republican nominee for this December's special election, which he's almost certain to win. In the wake of the government shutdown, Byrne's victory represents the triumph of the Republican establishment over Tea-Party-aligned candidates like Young.
Which is fantastic, because Young's outrageous positions and rhetoric have no place on the national stage. In addition to being a birther, his positions on homosexuality seem better suited to a place like Iran than they do to the United States. In celebration of Byrne's victory, and the Tea Party's loss, we present the following quiz:
Who said it, Dean Young or Mahmoud Ahmadinejad?
1. "If [homosexuals] don't like the laws … then maybe they need to go back to California or Vermont or wherever they came from"
2. "We don't have homosexuals … We do not have this phenomenon. I do not know who has told you that we have it."
3. "To the homosexuals who will not change, you are not welcome here"
4. "Do you really believe that someone is born homosexual? ... Homosexuality ceases procreation."
5. Homosexuality is "an ugly behavior" and "an ugly deed."
6. Homosexuality is "deviant" and "destructive."
7. LGBT activists are "nothing more than a gnat on the rear end of an elephant."
8. "You must not expect other countries or other groups to give [homosexuality] the same recognition"
9. "The people … are going to stand against the homosexual lifestyle and against things that are against the laws of God."
(Answer key: 1. Young, 2. Ahmadinejad, 3. Young, 4. Ahmadinejad, 5. Ahmadinejad, 6. Young, 7. Young, 8. Ahmadinejad, 9. Young)