16-Year-Old Emma Stone Singing 'Bitch,' Enough Said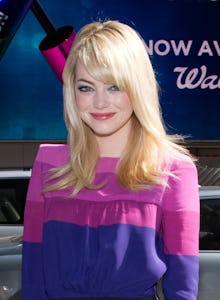 Happy 25th birthday, Emma Stone! While Jennifer Lawrence might have stolen some of the cool girl spotlight from her this past year, we'd still take any opportunity to kick it with Stone. And we don't need her to have an Oscar to do so, either.
Not surprisingly, Stone would probably make a kickass karaoke partner, given the singing talent she displayed in movies like Easy A and The House Bunny. She's also particularly easy-going, so you get the sense that even the worst on-stage screw-ups would be forgiven.
But even her die-hard fans might not have seen this video of her belting out Meredith Brooks' "Bitch" in order to win a reality series called In Search of the Partridge Family.
Win she did, but the only prize she got from it was a boyfriend named Teddy Geiger and a pilot that didn't sell. Even in this early video, Stone's stage presence and natural sense of humor is clear. Now, years later, Stone has starring roles in A-list movies directed by legends like Woody Allen, can call Ryan Gosling a close and personal friend, and goes home to her hunky boyfriend, Andrew Garfield, every night. Even for nerdy redheads from Arizona, it gets better.