'The Mindy Project' Season 2 Episode 7 Recap: Mindy is Terrible At Skateboarding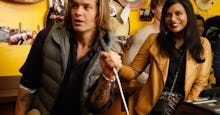 On the latest episode of The Mindy Project, "Sk8er Man," Mindy dates a hot skateboarder to prove she is open-minded in romance.
Mindy meets this hot skateboarder, Graham Logan, when he nearly runs her over on the street. He asks her out by offering to buy her a burrito, but she declines despite his display of sweet skateboarding moves.
At a dinner party, a friend tells Mindy that she's too choosy to be set up romantically. When Mindy complains about this at the office the next day, her coworkers confirm that she's indeed a picky dater. An infuriated Mindy tracks down Graham in order to accept his burrito offer and prove that she isn't too picky.
Despite Mindy's physical attraction to Graham, she discovers over burritos that they have very different life philosophies. She is horrified to learn that he purposefully does not have health insurance because he superstitiously believes that getting it will make him more likely to be injured.
At the end of their date, Mindy tells Graham that she will not be going home with him. Graham changes her mind when he saves her cell phone from being crushed by a subway, and they kiss passionately on the subway platform.
At the office, Jeremy snaps at Peter for being late to their birthing class preparation. Jeremy's annoyance at Peter seems out of character, considering that Jeremy has been Peter's biggest fan so far. Then we learn that Jeremy is simply tense because his father is in town.
Jeremy struggles to impress his father while Peter charms Jeremy's father by remarking that he looks like James Bond and his son looks like Austin Powers. Peter snags a dinner invitation with the two for the evening, where he ends up bonding with Jeremy's father over alcohol and rugby.
Mindy pitifully attempts to skateboard into work the next day in order to prove to her coworkers that she's romantically open-minded. When Danny expresses skepticism about the depths of her relationship with Graham, she challenges him to a double date with her, Graham, and a painfully boring girl that once flirted with Danny.
The double date is predictably awkward and ends with Danny and Mindy breaking up with their respective dates.
Meanwhile, Peter has continued to bond with Jeremy's father as they visit a casino together sans Jeremy. Jeremy becomes very angry with Peter and ultimately becomes enraged when Peter and his father teach the birthing class together. Peter calms him down with a pep talk about how Jeremy is much more successful than his father.
The entire Peter and Jeremy subplot was moderately funny, but felt like it came out of left field after their strong working relationship in the past. It also meshed poorly with Mindy's latest rom-com subplot, if only because they kept jumping back-and-forth between different times of day, especially at the end of the episode.
While I always enjoy unlucky-in-love Mindy navigating the NYC dating landscape, it's starting to feel a little repetitive. Her friends refusing to set her up and treating her like she's forever hopeless felt like a relic of Mindy's life from Season 1. After all, Season 2 Mindy was engaged not so long ago; clearly she's capable of a relationship. I would like to see more character development and consistency moving forward. That being said, this episode was hilarious. Mindy's always at her funniest when she's trying to be "on the same level" as her latest date, whether he's a world-traveling skateboarder or a pretentious arts and culture writer.
Quick Hits
Funniest Mindy Moment: Mindy articulating why she just can't handle hot dudes without a brain. 
Cringe-worthy: Making Jeremy the target of several jokes about his weight gain. Frankly, I expect better from a show with a curvy, empowered female star.
Guest Star Power: The beautiful Timothy Olyphant definitely upped the sexy factor tonight as Mindy's skateboarding date. Are we sure he's 45?
The Ex Factor: Another week, another revolving door for Mindy's latest fling. I'm running out of things to add on this front.