Richie Incognito's Bullying Goes Far Beyond the Locker Room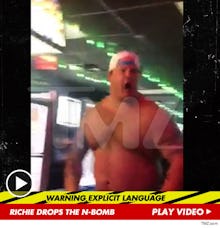 The last place a suspected criminal should go is the scene of the crime. Thus one situation a maligned 6'3", 319-pound, tattooed behemoth might hope to avoid is being publicly intoxicated and belligerent.
So the Miami Dolphins' Richie Incognito, amidst an NFL investigation into his violent, angry, racist harassment of a teammate, would want to avoid video surfacing of him shirt off, hat backwards, stomping around a Fort Lauderdale pool hall, dropping the N-bomb.
According to TMZ, this clip was shot a few months ago:
Incognito, who was suspended Sunday night by his team for misconduct detrimental to the organization, told a CNN reporter on Tuesday, "You know, I'm just trying to weather the storm right now. And this will pass."
Granted, as far as anyone can tell, Incognito hasn't been behaving similarly to the above video since being investigated by the NFL and NFL Players Association. But it's not helping his case to erupt, upon seeing another black teammate, "Mike Pouncy, nigga!"
Sources confirmed to ESPN that he left this voicemail in April for departed tackle Jonathan Martin (who is away from the team for psychological reasons):
Hey, wassup, you half nigger piece of shit. I saw you on Twitter, you been training 10 weeks. [I want to] shit in your fucking mouth. [I'm going to] slap your fucking mouth. [I'm going to] slap your real mother across the face [laughter]. Fuck you, you're still a rookie. I'll kill you.
If Incognito had chosen just one of these remarks, he'd still be a hated man. Take your pick: racism, desiring to defecate in Martin's mouth, threatening to slap him and kill him, and bringing his mother into it.
According the same report, "Sources familiar with the [voicemail] say these are terms Incognito used over time and were not isolated incidents, including the use of the racial epithet multiple times."
At this stage, what is most deplorable? The repeat offenses of Incognito, that he would expect to simply "weather" this storm, or that some of Incognito's teammates and other NFL personnel are actually attempting to defend him?
Wide receiver Mike Wallace said to NFL Media's Jeff Darlington, "I love Richie. I think he's a great guy. I don't think he was out of hand. I have a lot of respect for Richie. I wish he was here." Cornerback Will Davis added, "He's a funny guy ... Everybody loves him."
Calling someone a "great guy" or "funny guy" is obviously pretty loose. And before replacing those terms with more accurate descriptions, I'll give him a little leeway because he was so hammered.
OK, here goes: Racist, bigoted, despicable, loud, obnoxious, violent, angry, barbaric, and vulgar. 
Incognito will never suit up in a Dolphins uniform again, and other NFL teams would be wise to consider allowing such a toxic teammate into their locker rooms in future seasons.
Forget that he's one of the top offensive linemen in the league, a tremendous security blanket for a quarterback's blind side, and that he was selected to a Pro Bowl. To take a term from his own vocabulary, he only seems to prove time and again that he is really just a "piece of shit."
By the way, it should be duly noted that there has likely never been a stand-up, classy guy who decided to ink himself with a full tribal sleeve on one arm and a "MADE IN THE USA" patch on the other.
Here's a video of him explaining the deep meaning behind of few of them. Good luck weathering this storm, Richie.