Ryan Lochte Injury: MCL Torn By Teenage Girl. Really.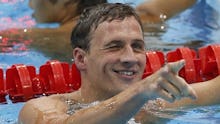 American Olympic swimming champion Ryan Lochte was injured last weekend when he was considered much too attractive and desirable by a teenage girl.
According to ESPN, when he tried to catch an obsessed fan who had run and jumped at him, the two fell to the pavement together. The girl was unhurt and Lochte banged his knee on the curb.
Lochte is next scheduled to compete Dec. 20-21 at the Duel in the Pool meet in Scotland, and his publicist stated that his medical team expects him "to make a full and speedy recovery."
Not that injuries are funny, and we patriotically must wish him that full recovery, but this has to be the most Ryan Lochte-way that Ryan Lochte could have possibly been injured. 
The Twitterverse was obviously ignited, but it was a bit ridiculous how the narrative quickly became about the "freak accident" he had suffered.
Others were keen to point out the historical implications of the circumstances surrounding his injury.
And since Lochte is possibly the dumbest athlete in history, he once again proves his fortune in having good looks. 
He is definitely one of the worst commanders of the English language in history, though, with famous quotes like, "The reason I love swimming is because ... racing," or "What defines me? ... Ryan Lochte."
But even as we rip on Lochte's lack of intelligence, we should heed his warning that nothing, um ... like ... gets to him.
"Uh ... what I was always good at was letting things go through, like, through one ear, out the other, so to say."