9 Things You're Guaranteed to Hear in a Bro-Country Song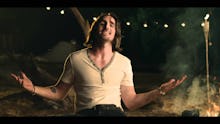 There was a time when country music was "pop's most mature genre." It was stoic men in ten-gallon hats and soprano women who'd lived full lives singing songs about, divorce, war, and that aching, hollow heartbreak feeling. But country music has changed, and traded in its gravitas and story songs for a new archetype of hard partying, tattoo covered, baseball-cap wearing white guys, looking for late night lovin', and a perfect patch of tailgate grass. These are the country bros. 
The arrival of the country bros has set off a Southern music war with genre purists calling bro-country anthems like Luke Bryan's "That's My Kind of Night" "the worst song I've ever heard," and bro-ready crooners like Blake Shelton rattling on about how, "Nobody wants to listen to their grandpa's music." Whether you're a fan of the genre's stoic old Southern gentlemen or the frat party-worthy newcomers, bro-country is here and it ain't leaving anytime soon. Here are the telltale signs that the country song you're listening to is classic bro-country. 
1. The bro-country season: Endless summer.
In a bro-country song it is summer, endless summer. I understand the South is warm, but there definitely are a few brisk days. Not in bro-country. In bro-country everyone is "high on summertime," and it always feels like, "southern summer, whiskey's in the air." Without the omnipresence of the warmest season our bros couldn't make all those deep, moving, and powerful declarations of love like, "baby you're my summer jam." 
2. The bro-country day: The freakin' weekend.
In country music of yore, weeks had seven days. There were drinks on Saturday, church on Sunday, and a 9-5 the rest of the week. In bro-country there are Fridays and there are Saturdays. The end. Every bro wants to be "your Friday night" but none of them want to be your Monday morning. As for the ladies, the bros only want someone that "everybody wants on a Saturday night." Again, no Monday mornings please. These bros have given up on the antiquated Rascal Flatts idea of "every day love" and traded it in for late night liaisons. 
3. The bro-country hour: Moonlight
The bro country clock only has one time of day — nighttime. It's never lunch, seldom afternoon, and if it's morning it's the morning after. For country bros, life only happens after dark (unless day drinking is involved). If they can be "barefoot in the moonlight," that's great; if they can "soak up a little moonlight," even better.
4. The bro-country love interest: A "girl."
Forget country songs about people. We are no longer in the age of Jolene, Amy, or even a Boy Named Sue. For a song to be real bro-country the singer must directly address the object of his affection as nothing more than "girl." She will have no name, no defining characteristics, no identity, but she will be a "girl." Choice examples include Billy Currington's "Hey Girl," Luke Bryan's "Country Girl (Shake It For Me)," and Tim McGraw's "Southern Girl." Note, she will definitely be wearing denim, and it will be "painted on." 
5. The bro-country beverage: Ice cold beer.
In classic country, booze was a sign of sadness (think, "There's a Tear in My Beer," or "If Drinking Don't Kill Me (Her Memory Will)." In bro-country, drinking is joy; drinking is life. Before, country crooners could never find themselves at the bottom of the bottle, today they most certainly can (think, "Get Drunk and Be Somebody"). While there are mentions of patron and other spirits, Blake Shelton, Jason Aldean, and Jake Owen know that ice cold beer is really the only bro way to go.  
6. The bro-country dish: Catfish.
The bro dish du jour seems to be catfish. Luke Bryan in particular is pushing catfish as an entree, and he's pushing it hard. In "That's My Kind Of Night" he's excited about catching "up a little catfish dinner," and in "Country Girl (Shake It For Me)" he encourages his "girl" to "shake it for the catfish swimming down deep in the creek." Other bros with an affinity for catfish? Actually never mind, maybe it's just Luke Bryan. He sings about catfish again in "Muckalee Creek Water." "Bump bump." 
7. The bro-country activity: Tailgating.
Few things bring a country bro more country bro joy than a tailgate. Luke Bryan likes tailgating so much that he named his album Tailgates and Tanlines. Lee Brice's "Parking Lot Party" is probably the purest bro-country tailgating anthem and includes such bro-y lyrics as "tailgate buzz just sipping on suds/ ain't never too early." Honorable mention goes to Jaydee Bixby for his mince-no-words tailgate song called "Tailgate." 
8. The bro-country ride: A truck.
We can't blame the bros for the truck obsession, but they've made it all their own. Special bro points if you're driving the truck on a dirt road. A country-bro in a sedan is just a man in a car, he needs a truck for full bro effect. Kip Moore certainly knows what's up. In "Somethin' Bout a Truck" he drives to a "tailgate" on a "summer" night, with a "girl" toward a creek: Bro-y. Tim McGraw simply went for some truck humor in the subtly titled, "Truck Yeah." 
9. The bro-country cool factor: A rap bridge.
Rap and country have worked out a strange, yet loving relationship. Ludacris has graced the genre, so has Nelly, and no one will forget LL Cool J's failure of a foray. Country-bros love a good rap bridge, and they are using it whether purists like it or not.
Even without the bridge, rap references abound. Ol' bro faithful Luke Bryan sings explicitly about the rap-country bromance with "little Conway, a little T-Pain." There's also hick-hop, but that's another story.