'So Young' Is A Beautiful Love Story for Chinese-Americans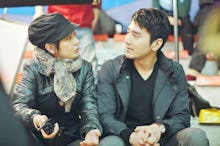 "America represents a dream," said Chinese actress and director Zhao Wei, "but So Young is a truly Chinese movie." Peering over the rows of fur coats and sparkly dresses, I tried to get a better look at Zhao Wei. She was wearing a simple black dress and her long, straight hair fell neatly around her shoulders. I was struck by her modesty in the midst of so much celebrity — she was sitting amid the entire Chinese film industry in Lincoln Center last night.
The New York Chinese Film Festival was established in 2010 to promote Sino-American cultural exchange, but something had been lost in translation amid the confusion as fans and reporters battled each other to enter Alice Tully Hall. Squeezing my way through the excited glob of people, I felt more like a little girl that had been snuck inside this grand theater. So it was also fitting that the opening film was about youth — youthful blunders, youthful love, as well as the corrupting influence that wealth and growing up has on young people's dreams. So Young is a film that young people from all cultures can certainly relate to.
Set on a university campus in 1990s China, So Young traces the (mis)adventures of college freshman Zheng Wei and her roommates as they navigate the bumpy terrain of boys, books, and booze. The film begins with Zheng Wei heartbroken that her childhood crush, Lin Jing, has left for America without informing her. While visiting another friend in his dorm, she gets into a heated argument with an architecture major Chen Xiaozheng when she touches his building model. The two become sworn enemies, until Zheng Wei realizes that she's in love him. She begins to stalk him around campus. She engages in behavior that, under normal circumstances, would lead to a restraining order. Although Chen is coerced into being Zheng Wei's boyfriend, he eventually falls in love with her too. The happy couple visits an aquarium together and Chen whispers something to the dolphin trainer. Yet soon she learns that Chen is leaving for America to study.
The movie fast-forwards seven years later from this point. During this brief time lapse, the viewers see drastic changes in the Chinese landscape. The grimy setting of college dorms littered with beer cans is replaced by skyscrapers, flashy cars, and ostentatious banquet halls. But laughter is also replaced by solemnity. Chen leaves behind his American ex-wife and mixed daughter and returns to China, hoping to rekindle his love with Zheng Wei. The film ends with a flashback to that day in the aquarium. We find out that Chen had told the dolphin trainer that he was going to propose to his girlfriend, but had no money to buy an engagement ring. The film ends with a feeling of what could have been rather than what life actually turned out to be.
Other reviewers have described the second half of the movie as "emotionally exhausting" and "unnecessary," but the lack of resolution during this section actually tells us a lot about the Chinese identity during this time. Although the friends of the main characters are successful business women, they are miserable and harbor a lot of regret for not following their childhood dreams. This shows the tension between materialism and actual happiness.
As a young person just starting to experience the "real world," the message I picked up was not to lament lost youth or be miserable in the present. I understood it more along the lines that it is hard to tell which path would have been better since there are pros and cons in every situation. Rather, it is how we create meaning out of the journey that is more important.
It was the perfect irony that the film was screened for the first time in America last night because it was America that tore the young lovers apart. And yet America was also seen as a golden opportunity — Chen could either move there and become a successful architect or remain poor but in love in China. This is a choice that many Chinese people have to grapple with, and one in which there is no wrong or right answer.
Zhao Wei mentioned after the film screening that the second half of the story was an exploration of character growth, maturity, and coping with sadness. She told the audience that she wanted to add more depth to the message. Zhao Wei's film transcends cultural divides and enables audiences here to better understand Chinese culture along with recent developments in China. For these reasons, So Young is a must-see, especially for millennials.