Marijuana Legalization: Colorado Pot Stores Are Going to Be an Economic Boon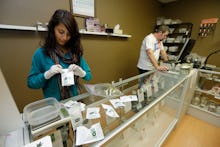 Marijuana: good for the munchies, for nausea, for chronic pain, and now apparently good for business. On Tuesday, the citizens of Colorado approved a ballot initiative that would institute a 25% tax on marijuana sales. The question of taxation was effectively the last barrier to recreational marijuana stores, which are expected to open in January.
The marijuana industry is one of the fastest-growing business sectors in the U.S. The industry is helping the economy by creating small business jobs and expanding tax revenues. Both Colorado and Washington State legalized the recreational use and sale of marijuana through 2012 ballot initiatives. Despite the contradiction between these states' new marijuana policies and federal law, the Department of Justice said they will not sue either state. 
Legal marijuana has created the opportunity for a multitude of small businesses to open. The Colorado Marijuana Enforcement Division accepted applications from over 130 businesses seeking to open recreational stores in the state. In Washington, the Liquor Control Board will allow 334 retail marijuana stores to open after an 11-month research and debate process. The ArcView investment group bankrolled more than 1 million into Colorado's marijuana startup businesses, which ArcView's CEO Troy Dayton called "the next great American industry." The marijuana industry is growing at a rapid rate; some claim it is growing even faster than the smartphone market!
In addition to creating jobs, legalizing marijuana increases state revenues. In Colorado, the tax measure approved by voters — which also earmarks the first $40 million in marijuana tax revenue to fund school construction projects — is projected to increase annual state revenue by $67 million. Washington officials estimate the state will rake in $300 million in revenue for the 2014 fiscal year. This is a critical issue as all 50 states hold a combined $4.19 trillion dollars of the national debt. New York and California — two states that have passed 4/20-friendly laws (California's 1996 medical marijuana law and New York's 1977 decriminalization law) — are hundreds of billions of dollars in debt.  
As concerns over the national debt continue in Washington, D.C., perhaps lawmakers should consider legislation to legalize marijuana to create small business jobs.