Pocatello High School's Outrageous and Sexist Double Standard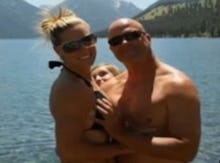 An Idaho high school girl's basketball coach was fired after a picture of her surfaced from her personal Facebook page that depicts her fiancé playfully grabbing her breast while they were on a beach vacation
The decision to fire her over the picture is questionable enough, but that's only half the story. Laraine Cook's fiancé Tom Harrison is also coach at Pocatello High School. But he's their varsity football coach, which apparently means that he's held to a completely different set of standards. He received a reprimand for the exact same thing that she was fired for. 
A slap on the wrist and losing your job: two very different things. 
Harrison has coached the school into 10 state championships since 1992 and is in the Idaho High School Football Hall of Fame. This clearly means he's too valuable to Pocatello to fire, even though he's the one who did the action that got called into question. Yes, she posted the picture, but he's the one who made it "inappropriate." 
After parents met with the school to protest Cook's firing, the district officials reviewed the case again but ultimately upheld their decision and have already hired someone else. Cook plans to appeal her termination.
Firing her in the first place was bad, but sticking to your decision after being busted for unquestionable sexism? That's just asking for a lawsuit. 
This school district needs to be held accountable for saying it's okay for a male varsity coach to do something that his female equivalent is fired for. It's not just an innocent mistake, it's a choice that indicates the clear need for anti-discrimination laws like the one being currently debated in Congress.