9 Songs Every Jazz Lover Needs to Know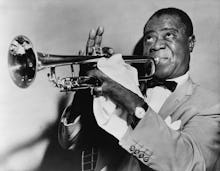 It's a great time to love jazz. The music may not hit the top of the charts, but young and exciting musicians from Robert Glasper to Esperanza Spalding are making jazz hip again for modern fans. Once you've got your foot in the jazz door, though, earning respect from the genre's aficionados takes more than just a Glasper CD and copy of Kind of Blue. These songs, whether historically significant or just plain great, are all required listening for a true jazz fan.
1. Louis Armstrong — "West End Blues"
Jazz was already around when Louis Armstrong first picked up his trumpet, but he took the genre to a new technical high point. From the opening notes of this early jazz classic, Armstrong's virtuosity is unmistakable. And while his signature gravelly voice had yet to take shape fully, his silky vocals battling Johnny Dodds' clarinet makes for one of the song's high points. The track was recorded in Chicago, but, as the band chugs along with the soloists drifting on top, it's hard not to imagine riding a steamboat up the lazy Mississippi through old New Orleans.
2. Coleman Hawkins — "Body and Soul"
By the 1930s, jazz big bands were some of the most popular music groups in America. One of the many stars to emerge from this era, Coleman Hawkins, unlocked new possibilities on the saxophone with his recording of the old jazz standard, "Body and Soul." The song's iconic melody is only hinted at, with Hawkins' serpentine lines twisting around the other musicians' steady pulse. While the recording shaped the face of jazz to come, paving the way for bebop, it also cemented the song in the American canon. Even Amy Winehouse, known for her irreverence, paid it homage in this cover.
3. Billie Holiday — "Strange Fruit"
Hip-hoppers might notice similarities to Kanye's "Blood On The Leaves," but it's Nina Simone's version — not Billie Holiday's — that Ye samples on his latest. The Holiday version, which came first, is bleak and haunting; her rough voice is perfectly suited to the song's graphic depiction of a lynching. With so dark a subject, it might seem surprising that the record sold a million copies. But then again, Holiday is so good that it's really no surprise at all.
4. Charlie Parker — "Perdido"
Charlie "Bird" Parker is famous for two things: lightning-fast sax riffs and heroin addiction. When he played this live show at Toronto's Massey Hall, the latter had begun to take its toll. Parker's playing is atypically subdued here, but this only makes it that much more electrifying when the flurries of notes begin. And the recording also features a who's-who of bebop-era players; Dizzy Gillespie glides and squeals on trumpet, Bud Powell tinkles the ivories with finesse and speed, and the legendary Charles Mingus and Max Roach hold it down on bass and drums, respectively. Plus, the live audience makes things all the more exciting — who screams like that at a jazz show anymore?
5. Stan Getz/João Gilberto — "Corcovado"
It goes without saying that "The Girl From Ipanema" is the most famous cut off this Grammy-winning album. The record, and that iconic song, brought newfound fame to American saxophonist Getz and his cohort of Brazilian collaborators (Gilberto might be on the marquee, but we can't forget his wife, Astrud, or the hallowed bossa nova songster Antonio Carlos Jobim). But this lesser-known tune just might beg more repeated listens than its over-played neighbor. "Quiet nights and quiet stars," Astrud Gilberto's soft, un-embellished voice sings, suspended over a lone piano chord. It's an ethereal moment, the first of many on the track. Contrary to what one might expect from Brazilian dance music, things stay light throughout, barely disturbed when Getz's breathy sax enters. The song radiates class; cocktail party planners, take note.
6. John Coltrane Quartet — "A Love Supreme"
When John Coltrane found religion, jazz changed forever. The tenor saxophonist had been widely known as a virtuoso before releasing this groundbreaking suite, but there was nothing quite like A Love Supreme — and there never has been since. The album's four movements are a nonstop outpouring of spiritual expression, from collective chanting to Coltrane literally praying through his saxophone. There's also plenty of intermittent bashing and wailing from pianist McCoy Tyner, bassist Jimmy Garrison, and drummer Elvin Jones. It's no wonder the man has a church named after him.
7. Miles Davis — "E.S.P."
In a perfect world, Miles Davis' whole discography would be on this list. Davis first set himself apart in the 1940s and 50s with his sparse, mellow trumpet style, but he was never content to stay stagnant. In the 1960s, his quintet was young, energetic, and eager to explore. Their first album as a band, E.S.P., is a prime example of their go-for-broke mentality. Davis' solo is savagely aggressive, and saxophonist Wayne Shorter, who wrote the tune, exercises a looseness that recalls avant-garde players like Ornette Coleman. The energy and freedom of this era in Davis' career has been copied by many young jazz players since, but nobody's ever quite nailed it. It's easy to see how all the members of the group — Shorter, pianist Herbie Hancock, bassist Ron Carter, and drummer Tony Williams (who was only 19 in 1965!) — went on to become jazz legends themselves. 
8. Weather Report — "Birdland"
When the 70s brought big hair and disco, jazz was forced to get its groove on. Jazz-rock fusion abounded, and the catchiest anthem of the era is the only slightly-dated "Birdland." Its radio-friendly melodies have made it a favorite of high school jazz and marching bands, but it's the musicianship on the track (courtesy of Wayne Shorter, Austrian keyboardist Joe Zawinul, and electric bass wunderkind Jaco Pastorius) that truly lifts it above mere elevator music.
9. Roy Hargrove — "Strasbourg St. Denis"
Before the current crop of ambitious young jazz artists stole the scene, there was Roy Hargrove. The spunky trumpeter began as a typically traditional jazz player, but, over time, his tastes have become more eclectic. Throughout his career, he's collaborated with Cuban musicians, hip-hop artists like D'Angelo, and even John Mayer. With this gloriously simple yet groovy number, Hargrove manages to incorporate a driving hip-hop feel into the acoustic context of his jazz quintet, resulting in an irresistible hook that's already been covered around the world. There's no way not to dance along.