Yasser Arafat Poisoning Would Confirm What Many Palestinians Knew All Along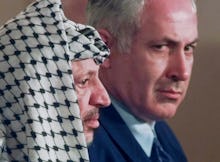 The late Yasser Arafat made headlines of newspapers around the world on Wednesday when Al Jazeera published a Swiss report which found poison in the former Palestinian leader's remains. Arafat's poisoning is not an isolated incident: Here are three of the most prominent poisoning cases of the new millennium.
1. Yasser Arafat
Palestinian leader Yasser Arafat died in a French hospital in 2004, four weeks after he had fallen ill. Medical records stated that he died from a stroke resulting from a blood disorder.
While there had been little doubt about the cause of his death, it turns out the widow of the late president, Suha Arafat, had his belongings examined by a Swiss medical institute. The findings showed that Arafat's belongings contained an elevated amount of the radioactive element polonium-210. For a further examination, his body had to be exhumed. The second test proved the results of the initial examination, leading specialists to the conclusion that Arafat had been poisoned a few weeks before his death. Al Jazeera was the first outlet to report the real cause of Yaser Arafat's death and posted a copy of the Swiss report. 
But the new findings are still surrounded by controversies: Along with the Swiss institute, Russian and French specialists were assigned with the task of examining the remains of the late president. The head of the Russian team told a Russian news agency that they hadn't found a trace of polonium-210 in Arafat's bones. Yet later, these claims were denied. 
But the real mystery here is who assassinated Yasser Arafat. Israel has consistently denied its involvement in Arafat's death, and this time it came up with a statement criticizing the Swiss report and calling the results inconclusive. 
2. Alexander Litvinenko
Alexander Litvinenko's poisoning became the best known of those in which polonium-210 was used. 
Litvinenko, a former KGB agent, was forced to leave Russia and seek political asylum after he claimed he had been assigned to assassinate a Russian oligarch, Boris Berezovsky. After moving to London in 2000, Alexander Litvinenko became one of the biggest critics of Vladimir Putin. 
There were claims that, while in the UK, Litvinenko cooperated with Britian's intelligence service, which could be the reason for alleged threats against him from Russia's security services. While in London, Litvinenko made a number of shocking revelations, such as the Russian security service's ties with Al-Qaeda and its terrorist activities around the world.  
Litvinenko's poisoning is still marked with mystery as it is not clear how his poisoner (allegedly Andrei Lugovoi, another KGB agent) get away without being poisoned himself. 
On Nov. 1, 2006, Litvinenko met with an old friend of his, Andrei Lugovoi, and afterwards he fell ill and was hospitalized. In three weeks, on Nov. 23, he died. Litvinenko's emaciated appearance is the last photo of him is shocking.
3. Viktor Yushchenko
When President Leonid Kuchma's term in office came to an end in Ukraine, a new rising political star was gaining popularity. Viktor Yushchenko, an EU-oriented politician, was at the peak of his electoral campaign when he suddenly fell ill in September 2004. In Vienna, he was diagnosed with poisoning from dioxin. Toxicologists claimed the dioxin levels in his blood were 6,000 times above normal. Abnormally high concentration of dioxin in the blood is lethal, but Viktor Yushchenko is the luckiest among the three politicians we've discussed, in that he survived.
As a result of the poisoning, Yushchenko's face was greatly disfigured: it became jaundiced and pockmarked. The perpetrators of the poisoning are still unknown, but many link it to a dinner that the then-presidential candidate had with his closest political allies and friends. One of Yuschenko's friends, David Zhvania, later claimed that Yushchenko had never been poisoned and the results of the hospital examination had been falsified.