Super Typhoon Haiyan Tracker and Path: Is This the Strongest Storm Ever to Make Landfall?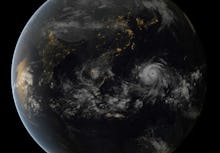 A massive storm packing 200 mph winds made landfall in the Philippines early Friday; a storm which one American meteorologist thinks it might be the most powerful in recorded history.
Super typhoon Haiyan forced thousands to to evacuated, and was expected to cause catastrophic damage to the area. Haiyan is forecast to pass just north of the Philippine's second largest city Cebu, home to around 2.5 million people.
On Friday morning, Philippines time, the storm was throwing 185 - 195 mph sustained winds and occasional gusts of 235 m.p.h, according to the Joint Typhoon Warning Center. This is the speed equivalent of the strongest category of tornado, a monster EF-5. 
"There will be catastrophic damage," Jeff Masters, a former hurricane meteorologist who is meteorology director at the private firm Weather Underground, told The Associated Press. 
Authorities in the Philippines grounded air and sea transport on Thursday and urged fishing boats to return to port as the most powerful storm on Earth this year gathered speed. Haiyan, known as Yolanda in the Philippines, made landfall between the central islands of Samar and Leyte. 
This is the latest from USA Today:
- No hurricane in the Atlantic has ever been this strong.
- It's possible Haiyan could become the strongest storm ever recorded to make landfall, anywhere on Earth.
- The storm is over 300 miles wide: The width is about equal to the distance between Boston and Philadelphia....
- A storm surge as high as 15 feet is possible in some parts of the Philippines.
- A 50-mile wide swath of 8+ inches of rain is predicted to cross the central Philippines, which will lead to dangerous flash floods and mudslides.
The category 5 storm (The highest possible category. Yikes.) is threatening to flood 100 coastal areas according to President Aquino, who has already evacuated thousands of residents. The president placed many military support vehicles on standby and has commanded officials in the central provinces to stockpile food, water, and relief supplies.
"The humanitarian impact of Haiyan threatens to be colossal, not only in areas directly in its path, but also for nearby islands such as Bohol," said Patrick Fuller of the International Federation of Red Cross and Red Crescent Societies.
Some of the most vulnerable people to the super typhoon happen to be residents of the island of Bohol, themselves survivors of a massive earthquake last month that killed 222 people. 
Haiyan is of particular interest to scientists who see its historic strength as an indicator of global warming effects. They've measured record-hot water temperatures in the Western Pacific and have linked those temperatures with extraordinarily intense storms throughout the summer and fall of 2013. Out of the four category 5 hurricanes that formed over ocean this year, all have formed in the exceptionally warm Western Pacific. In total, 13 hurricanes, 30 tropical storms, and 38 tropical depressions have affected this region of the world, a historic number. Warm ocean temperatures provide fuel for hurricanes and many link the abnormally high temperatures to global warming.
An average of 20 typhoons hit the Philippines every year. In 2011, typhoon Washi killed 1,200 people, displaced 300,000 and destroyed more than 10,000 homes.