A Typical Day in the Lives Of All Four 'Sex and the City' Characters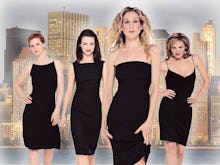 Love it or hate it (but c'mon, how could you not love it?), you can't deny the incredible impact of HBO's hit series, Sex and the City. Maybe you embraced every outlandish fashion choice, or maybe you rolled your eyes at Carrie's puns ("When you're tired, you take a napa, you don't move to Napa!"), Samantha's suspiciously STD-free existence, Miranda's bitterness, and Charlotte's words of wisdom ("A vibrator does not call you on your birthday").
But as rich as the world of the show is, we often only see our ladies drinking Cosmos, eating brunch, and recapping the night before. What did the ladies of Sex and the City actually do all day? We take a deeper look into a typical day for each woman (please note that the day is selected at random from the SATC universe, so don't get upset!):
1. A Day in the Life of Carrie Bradshaw.
9 a.m. Wake up in a rent-controlled Upper East side apartment that I somehow afford on my weekly columnist salary. Feel vaguely lonely and guilty. Why do I feel guilty?
9:01 a.m. Remember I cheated on Aidan — a guy who stripped my floors, cooked fajitas, bought my apartment, and held my face when we kissed — and "can't help but wonder" if I have that kind of comfort with Mr. Big.
Image courtesy Alaine Pennylaine Wordpress.
9:02 a.m. Full-on mid-life crisis sets in. I have so many questions: are Mr. Big and I happy? What is happy? How do you know if you're happy? Can you be happy if you're questioning what "happy" means? And why can't I just call Mr. Big by his real name?
Image courtesy Film Experience Blog.
9:03 a.m. Leave desperate message for Miranda.
9:04 a.m. Leave desperate message for Samantha.
9:05 — 9:30 a.m. Talk to Charlotte. She tells me that you only get two great loves in life. Ugh. Really wish Miranda or Sam would pick up.
Image courtesy Outofinkk Blogspot.
9:30 – 10 a.m. Sit in front of laptop and stare out window.
Image courtesy Modernette.
10:04 a.m. Write strong opening thought - "I couldn't help but wonder" - but then experience crippling writer's block.
10:05 – 10:35 a.m. Strategize different ways to rock a large flower brooch. Settle on 3 solid looks:
Image courtesy Cathy Two Shoes blog.
10:36 a.m. Try Miranda again.
10:36 — 10:39 a.m. Smoke a quick cigarette.
10:39 a.m. Try Miranda once more.
10:41 a.m. Finally get Miranda. She seems grumpy. Then again, she does live in Brooklyn now.
10:43 a.m. Lightbulb! Decide to write about how men's balls are like earrings or shoes — a necessary accessory that comes in pairs (sorry, Steve).
10:45 — 12:15 p.m. Reward brilliant breakthrough with necessary Manolo Blahnik/Jimmy Choo shopping spree. But actually this is research for the article. So I expense it. This also serves as my cardio for the day.
12:15 — 1:30 p.m. Feel bored. Narrate my life in voice-over. Incorporate as many puns as possible ("It's not baggage, it's Biggage").
1:30 p.m. Meet Samantha & Charlotte for a long lunch with cocktails. Ask them to have sex this week and report back on men's balls. Remind them they're my meal ticket.
3:30 — 4:30 p.m. Cigarette, latte, type a sentence. Repeat.
4:45 p.m. Late afternoon dessert with cigarette and latte. 
Image courtesy Tea to Friends.
7 p.m. Cosmos with the girls. 
Image courtesy Sara Dobie Wordpress.
2. A Day in the Life of Samantha Jones.
8 a.m. All-night sex marathon with guy from the gym concludes.
9 a.m. Arrive at work in cleavage-baring neon pantsuit.
Image courtesy HBO.
9:03 a.m. Carrie calls. I screen. I can't during work. The Big vs. Aidan thing again? I just cannot.
9:03 — 11 a.m. Work on hotel mogul Richard Wright's Berlin branch; plan a brat's Brat Mitzvah.
11 — 11:06 a.m. Exchange goods and services with UPS guy.
11:30 a.m. Get fired by Lucy Liu for lying about Birkin bag.
11:30 — 11:33 a.m. Say "fuck" a whole bunch.
11:45am — 12:45 p.m. Pilates class.
12:45 — 12:55pm Have sex at gym with Pilates instructor.
12:55 — 12:57 p.m. Wonder if all this sex at the gym is turning me into a gay man.
12:58 p.m. Remember I don't believe in labels.
12:59 p.m. Remember I do believe in labels: Gucci, Chanel, Versace, trysexual.
1:10 p.m. Errands: condoms, lube, nipple clamps, new vibrator/neck massager. 
1:30 p.m. Meet Carrie & Charlotte for a long lunch with cocktails.
2:14 p.m. Balk at Charlotte's relationship advice to Carrie. We're gonna listen to this Victorian shit? Really?
3:28 p.m. Check for lunch arrives; wonder to myself exactly how Carrie and Charlotte pay for anything.
3:45 — 5:30 p.m. Close several huge client deals.
5:30 — 5:42 p.m. Celebrate by masturbating at desk with new toy.
5:42 p.m. Toy breaks again. Need a man. Need two.
5:45 p.m. Remember I'm a sassy, saucy lady who can get anyone and can also pull off the occasional 'fro, no matter how inexplicable its presence on my head may be.
6 p.m. Call in reserves (my go-to gay couple) for quick threesome.
7 p.m. Cosmos with the girls.
3. A Day in the Life of Miranda Hobbes.
3 a.m. Wake to Steve stumbling home from bar. No, he hasn't been out drinking — he owns a bar and works long hours — but I'm still enraged since I choose to let most things piss me off.
3:02 a.m. Shut down Steve's late-night attempts at sex by feigning sleep.
5:23 a.m. Shut down Steve's early-morning attempts at sex in favor of coffee from my Harvard Class of 1990 mug.
5:30 a.m. Check on Brady. Wonder how I forgot the condom that one time despite my Ivy League degree and general animosity toward men.
5:33 a.m. Take shower.
5:34 a.m. Shut down Steve's attempts at shower sex.
5:50 a.m. Put on power pantsuit. I'm like Hillary Clinton, but without the cheating husband.
Image courtesy In New York They Met Blogspot.
5:51 a.m. Remember that Steve cheated on me. 
6:15 a.m. Commute to work. Try to forget I live in Brooklyn.
9:03 a.m. Phone goes off during meeting. It's Carrie. Love her but I know it's about Big and Aidan. Again.
10:36 a.m. Carrie call #2.
10:39 a.m. Carrie call #3. She'll keep calling till I pick up.
10:41 a.m. Carrie call #4. Just rip off the band-aid. I answer. Writer's block again. Also, "I want you to like Big," and "will Aidan hate me forever?" Honestly? Yes. We all hate you for what you did. 
1:30 p.m. Ignore the girls' invite to lunch & cocktails. Need to work through lunch if I have any chance of grabbing drinks with them later.
2:30 — 3:30 p.m. Late lunch and errands. Overhear single women complaining about men and insist on giving them blunt, brutal advice:
4 p.m.  Steve texts picture of me, him, and Brady. Remember I love them and that Steve puts up with a lot of my bullshit. And I put up with his. Finally — a definition of love I'm semi-comfortable with. 
Image courtesy Chitown Star Connections.
4:02 p.m. Decide we will have sex tonight.
7 p.m. Cosmos with the girls.
Image courtesy Forever Young Adult.
4. A Day in the Life of Charlotte York.
7 a.m. Wake from terrifying nightmare that all my friends have babies except me.
7:01 — 7:05 a.m. Attempt sex with Trey. But I totally forget he has a big surgery today so I completely understand that he can't have intercourse right now.
7:15 a.m. Make Trey eggs. Hot water leaks from my eyes. It looks like tears, but it's not. In no way do these eggs remind me of my own, unfertilized eggs. No. NO. NO!
7:30 — 8:30 a.m. Research erectile dysfunction for ... a friend. Not for my husband. Definitely not for him. That wouldn't make sense since he's perfect and we have a perfect marriage and his perfect penis always works perfectly.
8:35 — 9:05 a.m. wonder what my vagina looks like. (I've never actually looked.)
9:05 — 9:30 a.m. Carrie calls. I offer really helpful relationship advice, like reminding her that we only get 2 great loves in life and that women are just waiting to be rescued by a man.
9:30 — 10 a.m. Design a lighting system plan in unborn child's baby room. 
10:15 a.m. Call Trey to discuss baby's lighting plan.
10:16 a.m. Trey gets pulled into emergency surgery! He's a hero. His miracles never end.
10 — 10:40 a.m. Walk around my lavish apartment, making sure my huge engagement ring touches every shiny surface at least once.
10:40 — 11:15 a.m. Brush and organize my pearls. 
11:45am — 12:30 p.m. Stare at my pores in a magnifying mirror.
1:30 p.m. Meet Carrie & Samantha for a long lunch with cocktails.
1:31 p.m. Feel offended by something Samantha said.
2 p.m. Feel confused/disgusted by something Samantha said.
2:14 p.m. Remind Carrie to avoid ending up an Old Maid.
2:47 p.m.  Reveal my vagina is depressed.
3:28 p.m. Check for lunch arrives; wonder to myself how Carrie pays for anything. Catch Samantha with a similar look on her face and wonder if she ever thinks the same of me.
3:45 p.m. Stop by park to watch children.
3:45 — 6 p.m. Talk to seven different strangers about our journey to parenthood. They all seem genuinely interested. It's nice to talk to someone.
6:05 p.m. Trey calls. He says he loves and misses me. Remind him I'm getting drinks with the girls tonight but I'll be home early if he wants to go into the bedroom and —
6:06 p.m. Trey gets pulled into emergency surgery again! Twice in one day! He'll probably be too tired to make love tonight. That's totally fine! We can make our baby another night.
6:07 p.m. An eighth and ninth stranger take sincere interest in our desire to have a baby.
7 p.m. Cosmos with the girls.