Immigration Reform 2013: What Tuesday's Election Results Mean For the 2014 Midterms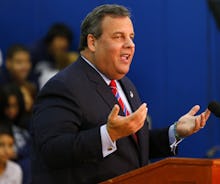 After Tuesday's sweeping elections, one thing is clear to voters: Republicans across the nation are facing growing pressure from members of Latino communities on immigration reform. For the future, look towards the re-election of Gov. Chris Christie (R-N.J.), and the loss of Ken Cuccinelli (R-Va.) in heated gubernatorial races. Both states have a healthy Latino populations advocating for immigration reform. But Christie and Cuccinelli responded very differently to these calls for action.
Governor Christie embraced the Latino community, implementing powerful campaign outreach programs and releasing ads in Spanish in May. He broke with the mainstream GOP to support a path to citizenship. These efforts paid off: "Now find another Republican in America who's won the Latino vote recently," Christie said on Wednesday, at a visit after his re-election to a school within a Hispanic stronghold.
Christie's implication is clear: hew close to moderate stances on Latino issues, or end up like Ken Cuccinelli. Cucinelli took a hard line on immigration by supporting a resolution to amend the Constitution to deny citizenship to the children of illegal immigrants. According to exit polls, he also got just 29% of the Latino vote.  
With the 2014 midterm elections coming up next year, Republicans are going to have to do some soul-searching if they want to keep their seats in Congress, or face the consequences. Many of the Republican representatives of the country that are up for re-election hail from states such as California, Colorado, Florida, New Mexico, and Nevada. All of these regions feature prominent Latino communities.
"This is designed to tell Republicans that if you don't take action on reform, there will be people who will take action in districts where Republicans are vulnerable to mobilize Latino and immigrant voters to reward or punish a member of Congress," said Frank Sharry, executive director of America's Voice, a leading national immigration advocacy group.
One thing is for certain: Governor Christie's successful campaign is a sign of the changing times for the GOP. There's plenty of speculation that Gov. Christie's re-election will prompt a possible campaign for the presidential elections in 2016. His landslide victory has put given him a national audience, with members of every political party taking note. Christie's revolutionary beliefs within the Republican Party make him a candidate with the potential to change the face of the GOP as we know it.