Power Bacon Deodorant: Genius or Vile?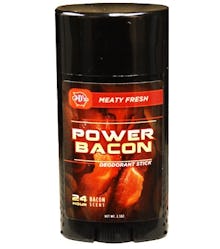 We all know that bacon is awesome. It is hands-down the best part of breakfast. (Who actually eats sausage?) But while I'm completely on-board with expanding bacon's reach beyond the breakfast arena, there is a limit. For example: bacon sandwiches are brilliant, but bacon frappucinos are terrifying. Actually, just assume any food that requires liquefying bacon is no-go.
Bacon-inspired novelty items can be cute too. For Christmas, give the bacon lover in your life a bacon-shaped pillow wrapped in bacon wrapping paper. Just don't wrap it in actual bacon.
Unfortunately, a company is Seattle does not agree with my conservative approach to bacon proliferation. J&D's Foods is on a mission to baconate the world by creating a line of bacon-flavored foods. But then things got weird, and along came bacon deodorant.
Power Bacon designed "for when you sweat like a pig," because sweaty bacon is sexy. Can't you just imagine being in a full subway car, face to armpit with an old guy whose pit stains smell like dirty gym shorts and bacon? It would make you swoon, or just pass out. But better yet, guys, follow the company's suggestion and put Power Bacon on your crotch. Testicles that smell like bacon are the ultimate aphrodisiac.
Just make sure to use your new powers wisely. As the company says, "great bacon power comes great baconsibility."