Pentagon Releases Startling New Statistics On Military Sexual Assault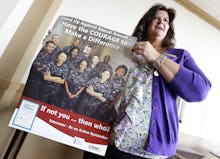 The Pentagon has released new data about the reported number of sexual assaults in the military. Between July 1, 2012 and June 30, 2013 there were 3,553 reports of sexual assault, a 43% increase from the year before. During the same period, there were 219 casualties in the wars in Iraq and Afghanistan. Last year, soldiers were 15 times more likely to be raped by a comrade then killed by an enemy.
Over the last several years the problem of sexual assault in the military has received a great deal of attention. The brilliant and terrifying documentary The Invisible War ripped open the issue by interviewing survivors about their experience of military rape. The documentary encourages Americans to aggressively lobby Congress to address the epidemic of sexual assault amongst the troops.
In response, brilliant Democratic Senators Claire McCaskill and Kristen Gillibrand have whole-heartedly dedicated themselves to changing the system of military justice that has repeatedly failed its soldiers. The Senate will soon debate proposed amendments to the National Defense Authorization Act that would remove a commanding officer's discretion over pressing charges for an inferior's sexual assault.
The progress made by the fierce members of the Senate's Committee on Armed Services has been tremendous. The Pentagon can no longer bury the statistics of abuse and expect there to be no questions. Yet the startling numbers released Thursday remind Americans how broken the system remains. According to the Department of Labor, between 20-48% of female veterans were sexually assaulted in the military. More women leave the military with post-traumatic stress disorder from rape than combat.
The numbers should serve as a gut-wrenching reminder of the massive inexcusable problem in the United States military. These victims are the men and women who volunteer to protect and serve the country they love. It needs to be the number one priority of American patriots to stop the sexual violence in the military. Protect our troops by ending sexual assault.