HBO is Cutting Off From Premium Cable in Some Cities, and Time Warner Isn't Happy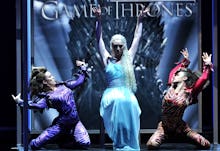 Why pay for cable TV when you have the internet? This is the mantra of cord-cutters and cord-nevers everywhere. There are plenty of avenues online for watching a lot of the TV shows you want to see. This logic makes the most sense to millennials, who grew up with the internet and are increasingly going without traditional television; 2.6 million households have never paid for it. Cable TV is increasingly going the way of the landline phone, which is going extinct for similar reasons. But it can be difficult to access premium television like HBO without having cable TV … until now.
Comcast announced that it would begin offering an "Internet Plus" plan that includes broadband Internet, HBO access, as well as 10 basic TV channels for $40 or $50 per month, without having to pay for all those other mediocre cable channels. That's less than half the average package, which comes out to $128 per month. Not only is this good news for people who supposedly loathe TV but need their Girls fix, it is also a sign that HBO understands it may no longer need to be bundled with cable TV to be profitable. This is a lesson learned most starkly from stand-alone service Netflix, which not only became the first online-only company to win Emmys, but also surpassed HBO in subscriptions last month.  
HBO earns money via cable companies paying them fees to be able to include HBO in their offerings, which they always do, since HBO is way more profitable than other mediocre channels. But what if HBO could make money on its own from direct subscriptions, like Netflix does? Time Warner is clearly in damage-control mode as a result of the new, super-popular offering by Comcast. Time Warner CEO Jeff Bewkes said in a conference call Wednesday that "[the new plan] won't be attractive to most people, but might appeal to a segment." Yeah, Jeff, that segment is millennials, all of them, and in a couple years the market will be dominated by them. It's too late. Any day now, you will wake up to find that HBO has gone out on its own and that cable television with its random bundle of channels is truly on its way to being replaced by high-quality internet television.