Boy Allegedly Suspended From School For Carrying a Purse Like a Girl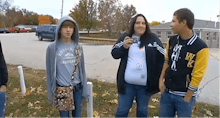 School officials in Anderson County, Kansas are having trouble keeping their story straight as pressure mounts nationwide over the suspension of a local eighth-grader. KCTV 7 reported Wednesday that 13-year-old Skyler Davis was allegedly suspended from school because he refused to take off his Vera Bradley purse.
Skyler, a student at Anderson County Senior-Junior School, has carried the colorful bag since August with no issues before this week. "It expresses myself and I think everyone else can wear it, so I wear it as well," the young student told local journalists. The boy's mother is baffled that school would make such a big stink over a purse. "I called the school ... and yeah, he refused to take off ... [the] bag, nothing more to it," she recounted Thursday.
School officials declined to comment on the allegations, citing privacy rules, but the county's school Superintendent Don Blome said that, "All students, whether female or male, are prevented from having bags, purses, satchels, and backpacks in the core classrooms." Although Blome says it's been a long-standing rule, Skyler's mother points out that it appears nowhere in the student handbook.
Skyler has been supported staunchly by his family and many across the country as news of the suspension quickly rippled beyond Kansas. However, after the story gained traction in the media, school administrators pulled Skyler out of class Thursday to clarify that "he was never suspended for refusing to take off his purse, he got suspended for foul language," wrote his mother in an email to local reporters.
The school is increasingly becoming the scene of heated political battles. Skyler's case joins an long line of over the top suspensions with political undertones. In 2011, a male cheerleader was suspended from his school for kissing another boy and a Texas student was suspended for saying homosexuality is "wrong."