Detroit Homeless Apartments Could Be a Model For All American Cities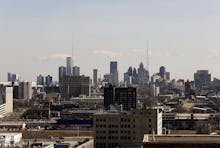 As of Wednesday, 41 homeless people in Detroit have a place called home. It took one year, $10 million, and the collaboration of dozens of community organizations headed by Cass Community Services to complete the housing development project that transformed a block of 1920s-era apartments into a permanent housing complex for homeless people.
Named after a former volunteer at Cass Community Services, a Detroit-based non profit that provides food, health, housing, and jobs in "areas of concentrated poverty," the Arthur Antisdel Apartments are a typical homeless shelter. The housing is aimed at being transitional, so tenants move out when they reach stability in their lives. "It potentially permanently ends homelessness for 41 residents," said writer Mitch Albom. The tenants will sign a lease and pay monthly rent, which will never exceed 30% of their income, according to the Detroit News.
For anyone out who thinks America has enough shelters, think again. Almost 16% of homeless people are experiencing "chronic homelessness," which lasts a year or longer. Forty-four percent of homeless people have jobs, yet they can't escape homelessness.
Of course, there are ongoing efforts to establish permanent housing, like has been done in Detroit, in Yakima, Wash., Fort Lauderdale, Fla., and New York City. The key is building and maintaining a system that will eventually spread to communities across the country.