Jews For Jesus Gets a Boost From George W. Bush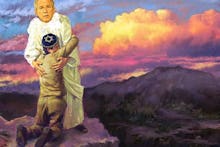 Are you Jewish? George Bush has something to say about that. 
The former president will help a controversial missionary organization convert Jews to Christianity on Nov. 14 when he speaks at a fundraiser in Irving, Texas for the Messianic Jewish Bible Institute (MJBI). The Dallas-based group's goal is to convince Jews to accept Jesus as the Messiah in order to bring about the second coming of Christ and "restore" Israel. Check out their video below, where MJBI explains its vision against a background of really, really bad (and rather corny) music: 
Needless to say, a lot of Jews aren't too happy about this. Rabbi David Saperstein, the director of the Religious Action Center of Reform Judaism, told Mother Jones, "It's disappointing that [Bush] would give his stamp of approval to a group whose program is an express effort to convert Jews and not to accept the validity of the Jewish covenant." Influential rabbi David Wolpe tweeted, "This is infuriating."
George Bush isn't the first conservative to speak at MBJI's fundraiser, and he definitely won't be the last. Last year's speaker was Glenn Beck, who received the "Defender of Israel" award despite the constant stream of anti-Semitism that regularly gushed out of his mouth when he had a show on Fox and was introduced to the audience as a "prophet." 
While it is unclear whether Bush is receiving a speaking fee, he is certainly going to earn MBJI a ton of money (which will be used to further its proselytization efforts). The most expensive ticket packages reportedly range from $100 to $100,000 and include signed copies of Bush's book Decision Points as well as an invitation to a VIP reception with the former president.