Everything You Need to Remember Before Watching 'Love Actually' Again This Season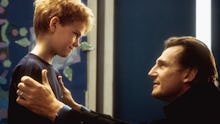 Richard Curtis' newest film, About Time, came out on November 8. It is a love story revolving around the central premise of a young man discovering that the men in his family possess the power of time travel. In a career marked by writing genre-defining films such as Notting Hill, Bridget Jones's Diary, and Four Weddings and a Funeral, Curtis has influenced the romantic-comedy genre with his bashful, unassuming characters. He started strong: his first film was 2003's Love Actually. This month marks ten years since the film's release, during which time it has grossed $246,942,017 worldwide and earned three-and-a-half stars out of four from Roger Ebert.
Love Actually is one of those movies that you can watch over and over again. You will still feel just as warm and fuzzy on the inside each time. Consistently voted as one of the best Christmas movies of all time, the film has absolutely no pretensions. It does not profess a grand message about the human condition. The message of Love Actually is simple: Love is all around, period. Equal parts uplifting and heartbreaking, hilarious and poignant, Curtis' ode to Christmas and all things love comes from a director/writer who knows how to tug heartstrings and is lauded as the King of Romantic Comedies. The film boasts an all-star cast (Hugh Grant, Liam Neeson, and Keira Knightley, to name a few), dense and interconnected storylines, and a soundtrack featuring everyone from The Beach Boys to Kelly Clarkson. Scientists, working in a lab, could not create a better rom-com.
What makes this story so eminently watchable no matter how many times you see it is that it does not pretend to be anything other than what is — a sappy, feel-good, Christmas movie. Love Actually is set apart from movies such as The Santa Clause series, Bad Santa, or even A Christmas Story because it reinvigorates the Christmas spirit in adults without losing its adult edge. It is perfectly happy to be a Christmas movie and an adult love story; it's the kind of movie that, realistic or not, bemuses and delights and — at least for the length of the movie — shows true love conquering everything else, and then neatly and quietly ends. And that is perfectly ok.
Being 10 years old, there are naturally some dated references (Billy Mack references a tryst with the biggest pop star of the time, Britney Spears, in order to illustrate his popularity). And, of course, the film came out before the age of social networks or the mass, global prevalence of cell phones and apps. Characters fall in love by chance, whether they are actively searching for it or not. At the same time, the interconnectedness of the storylines lends an air of serendipity to the film. It may seem unrealistic, but it's undoubtedly well-plotted.
The contrast between the characters in this film and the way relationships are often seen today can throw off someone watching for the first time. Perhaps 10 years later these characters would have online dating profiles, but it is because of this anachronism that Love Actually has such power. With this film, you see all of the facets of falling in love, its beauty and its flaws. You see love blossom, you see hearts break; you see sad smiles as well as joyous tears. Instead of Mark (The Walking Dead's Andrew Lincoln) late-night Facebook stalking Juliet (Knightley) and liking her photos at 3:00 in the morning, we get a touching scene of love with no thought of it becoming requited.
The movie is not all hearts and rainbows. There are absolutely devastating moments. But they serve as a contrast to the rest of the film. The reality is, love can be "total agony". These scenes make the rest of the movie shine even brighter. The final portion of the film, when the audience finds out that all of the stories are intricately connected, ties up each storyline in nice little bows, much more simply than Rowan Atkinson's gift-wrapping of Harry's (Alan Rickman) necklace. Everyone gets a happy ending in this movie — not always how you would expect — and the film does not apologize for that.
Love Actually opens with a monologue about how any feelings of gloom or despair are conquered by watching families and friends being reunited at an airport. By movie's end, it is clear that watching this film — even 10 years later — the same goal can be reached. Today's audiences favor dark and gritty films and television shows. The more "realistic," the better. Shows such as Breaking Bad and Mad Men, and films such as Argo and Zero Dark Thirty are works of art; they are entertaining in a different way than a film like Love Actually. With so many bleak and despondent TV shows and films today, Love Actually stands out as an oasis of peppermint and snowdrifts. If it glosses over some of the more realistic aspects of life, it does so in order to deliver a different kind of truth — love is not always what you might expect, but it is truly all around you.
It does not have to be Christmas to watch it, you do not even have to be in particular need of an uplifting film. Sit down with no expectations. Enjoy a movie that is unaffected and honest in its formulaic composition. It is perfectly happy to be a love letter written to, well, love in all of its forms. In the same way Billy Mack loses his cynicism and selfishness, Love Actually can make your heart grow three sizes.
So start watching, Mr. Grinch. Christmas is coming.