16 Beautiful Portraits Of Humans Who Happen to Be Trans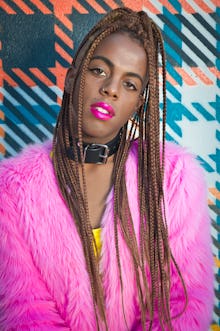 Editor's note: This piece is part of PolicyMic's series in honor of Transgender Day of Remembrance 2013, addressing issues of trans visibility and the media. 
I've been taking photographs for the greater part of my life. For the past seven years, I've used photography as a way to understand my own experience as a trans person and to look deeper into the lives of the people around me.
When asked to create a portfolio of transgender-specific portraits for the PolicyMic "Identities" section, I was excited for the opportunity to show my work to a new audience, but I was also nervous. It isn't my place to try and claim a trans identity for the people featured in my photographs. Some people have a gender identity that stays put. Some identities shift once and gradually settle in. Others have a fluid experience with their gender that perhaps falls somewhere on the trans spectrum. Personal identifications are complicated and can be easily misunderstood.
Instead of simply showcasing my own photographs, I reached out to 16 people I've photographed and asked them to tell me in their own words how they identify at this very moment. The diversity of the models' identities speak volumes. Being "trans" is just one small part of what makes each person unique and inspiring, as you'll see.
1. Arisce Wanzer
"I find both solace and a sense of pride in being different from everybody else. I draw strength in not living up to standards that are not my own for what it is to be male or female. I love the person I know in the mirror because I see that she's being herself."
Arisce is a model I met on this fashion shoot for Original Plumbing online. She is literally the future, and her sense of humor kills me. In this photo, Arisce wears custom BCALLA.
2. Elias
"Transfag."
Elias is a Swedish guy who was visiting the US when I met him at Riis Beach. I spotted him on the sand, recognized him from photos our mutual friend in Berlin had shown me, and set up a date to shoot while he was still in town. I was really into his 'NSYNC necklace.
3. Rae Spoon
"I identify as a musician, an author and a composer, as well as queer and gender-retired."
Rae is a singer song-writer from Canada who I photographed for the Entertainment issue of Original Plumbing. Posing against a dripping wall in Bushwick, Brooklyn, Rae opened up the umbrella at the perfect moment. The dripping wall has since been painted over and replaced with a more "gentrification-friendly" mural.
4. Dominic
"Personally, I don't like labels or put myself in a box, so I just go by Dominic. It's who I am, but if I had to pick a label, I guess a man of trans experience could fit."
I photographed Dominic in Atlanta while I was there for the Southern Comfort Conference. We met up at my hotel and went right next door to shoot against this cement wall behind the Walgreens.
5. Janet Mock
"I'm a writer and trans woman living visibly, the daughter of a Native-Hawaiian mother and African-American father, a lover of books and popular culture, and the author of Redefining Realness."
Janet Mock is one woman who is changing the world with her eloquent, honest and outspoken existence. This photo was taken for the HERO issue of Original Plumbing, where we honored trailblazers in the trans community from the past and present. 
6. Black Cracker
"Thin-skinned and skinned knee plenty. Nothing short of a tree. Much less than all the sand. It falls. A fractal hidden. A silent sea."
Black Cracker is an MC, producer and a poet living in Berlin, but this photo was taken in Brooklyn, outside of an ice cream shop in the Greenpoint neighborhood. Melting green ice cream was the only prop.
7. James Darling
"I'm a queer, self-made transsexual man."
I like to think of James Darling as the twink-next-door. I'm pretty sure I'll think of him that way for at least another 20 years. We lived together back in San Francisco. Last year, he launched his very own porn company, FTMFucker.com, which features trans guys in every scene. 
8. Juliana Huxtable
"cyborg cunt priestess witch nuwaubian princess."
Juliana is my current muse and co-collaborator. We've been working on a series for almost a year now. I'm going to publish our collaboration into an art zine with her writing included. In this specific photo we're in her living room, making fun of Mapplethorpe.
9. Auston Bjorkman
"I identify as a menswear designer primarily. My gender identity is as a masculine person. I have never felt any other way, even though I was trained to believe otherwise. But that conditioning just never took with me."
Auston is the man behind SIR NEW YORK, a fashion label that has completely blown up recently. I was lucky enough to shoot behind the scenes of a SIR NEW YORK Fashion Week presentation, and captured some great portraits of Auston while we waited for the models to arrive.
10. D'hana Perry
"I identify as genderqueer/androgyne."
D'hana is a DJ and media artist, a Boston transplant currently in Brooklyn who I photographed at the Ace Hotel. D'hana was featured in Original Plumbing's latest, the PARTY issue. 
11. Zackary Drucker
"I identify as a human."
Zackary and I collaborated on a series of photographs made in her home town of Syracuse, NY. This particular image is from Christmas morning on her high school's football field, about 10 years after she graduated. I published our favorites from the series in Translady Fanzine; we had an exhibition at Luis De Jesus Los Angeles.
12. Stephen Boyer
"There are so many factors that play into 'identity' posturing but a few I'm always listening to are my emotions, continually trying to remain aware of exterior immediate influences. Sexual arousal and cultural happenings all definitely help determine how I identify every day ... some days I'm more 'androgynous', some days I'm more 'butch', some days I'm more 'femme', some days I'm more 'queerfreak', some days I'm sorta 'normal' ... and really, what does it matter, as long as I am loving and being loved and getting laid!"
Most days I can't think of how I first met Stephen. I remember spotty moments in a hot tub on a San Francisco rooftop, a time in Los Angeles, and feeling oddly invincible any time we hang out. This is from a series made in Stephen's old basement room in Chelsea right as their first novel Parasite was coming out.
13. Quay Dash
"I'm a black trans woman of knowledge, wisdom and understanding, living life and loving every aspect of it."
Quay is a rapper from the Bronx, on the CUNTMAFIA label. This was her first photo shoot ever, but she completely fooled me.
14. Rocco Katastrophe
"There are many levels to my identity: first and foremost I am a lover of cats, second I am a feminist, then a bunch of other shit — like someone who is up for almost any adventure, someone who suffers from logorrhea, a good friend, a twin, an airplane cry-er, a hyper sensitive new age guy, a Californian, sober, magical thinker and a straight man who is culturally queer/trans."
Rocco is my closest friend. We founded Original Plumbing together in 2009, and we are currently roommates. We met in 2001 when I was working at a laundromat. I won't explain the reasons behind this photo, but I will state the obvious and say that he is casually in a Batman costume made from highly flammable material, photographed in Los Angeles.
15. Colin Self
"Trans doesn't always have to apply to gender or sexuality. I try to unidentify or be in a constant state of flux. I kind of see gender as a part of my disciplines — same as music, dance, appearance. I identify as transdisciplinary — it's a dedicated practice of existing in the world perpetually as myself."
Colin is an incredible beauty in his Grandfathers Navy Berét. This photo is titled Pink Salute, and it was taken in Colin's bedroom. It's one of my favorites.
16. Ayden
"I'm a gay man and curmudgeonly Jew who publicly transitioned over a decade ago. Since moving to a conservative small city for my Ph.D. (and not hating it), I've mostly identified as so over it."
This photo of Ayden was featured in the second issue of Original Plumbing (now out of print); the theme was "hair." We made this photo in the hotel room Ayden was sharing with his parents on their trip to San Francisco while the parents were out sight-seeing.