New "Asian Fit" Sunglasses Aren't Racist, But They're Pretty Stupid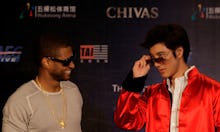 Last week, news outlets like Quartz and Yahoo News weighed on whether a new line of "Asian fit" sunglasses from Oakley was offensive to Asians because it suggests that Asian facial structures are not "normal." The conclusion seemed to be no; Quartz dubbed the sunglasses "not racist, just science." That may be true, but the whole discussion over Oakley's new product misses the point.
Although I find it difficult to take issue with the eyewear company's line of shades, marketing tactics like these remind us that, even for multicultural millennials, stereotypes about Asians are still flourishing. Recent events suggest that this trend won't die anytime soon, even as Asians continue to be the fastest-growing demographic in the country.
Last month, 12-year-old Alison Gold made headlines for all the wrong reasons when she starred in the YouTube hit "Chinese Food." The music video has been widely criticized for its play on Asian stereotypes. Patrice Wilson, the culprit behind the video, claimed he had no ill will towards Asian-Americans, and that he only wanted to celebrate his love for Chinese food.
But I am not convinced.
Wilson wanted to replicate the success of Rebecca Black's "Friday" – a song which he also produced – by purposely trolling the internet. To that end, he was quite successful. But the video did more than capture the attention of millions of viewers. It reinforced Asiatic "otherness," or the perception that Asians are somehow stranger and more exotic than other ethnic groups.
Just take a look. The video shows features such "exotic" scenes as an Asian man cooking with a pair of oversized chopsticks, underage girls dancing around dressed as geishas, and a zoom-in Monopoly piece which just happens to land on "Oriental Avenue."
None of these blatantly offensive scenes seemed to affect the video's popularity. The song even reached Billboard's Hot 100, a clear sign that the American public still tolerates racism against Asians to a certain extent.
Unfortunately, Wilson's music video wasn't the only one that made waves over its stereotypical portrayals of Asian-Americans this year.
In August, indie band Day Above Ground released a music video to "Asian Girlz," a song that fetishizes Asian women by making references to their "creamy yellow thighs" and "slanted eyes." The song propelled the band into the spotlight after many accused Day Above Ground of being racist. In response, the band's singer Joe Anselm argued that his group meant to poke fun at the "tunnel vision" that white men have of Asian women. Yet, neither the song nor the music video had a disclaimer upon their release that suggested as much. Instead, both seemed to openly advocate the denigration of Asian women and, along the way, made the band even more popular.
Wilson's and Day Above Ground's songs are examples of a disturbing mass media trend. Despite how highly people may think of Asians and their success in the corporate world, Asians and Asian-Americans command little respect in the media. Evidence shows that they are the least represented on television, usually playing one-dimensional, stereotypical characters. As PolicyMic contributor Jonathan Smith puts it, "The media continues to promote the 'otherness' of Asian-Americans, which regulates them to perpetual foreigners and facilitates the disturbing trend known in Hollywood as whitewashing."
And these attitudes don't exist in a vacuum. Last year, while browsing YouTube, I came across a clip from former House Representative Peter Hoekstra. At the time, he was running for Senate against Democratic incumbent Debbie Stabenow, whom he accused of sending jobs to China. To make his point clear, his campaign released a 30-second commercial that featured Lisa Chan, an Asian-American actress who played a job-stealing Chinese worker and deliberately spoke broken English.
Unsurprisingly, the commercial received immediate backlash. The Detroit branch of the National Association for the Advancement of Colored People denounced it as a "clear demonstration of playing an unnecessary race card." Hoekstra eventually lost the race but enjoyed enormous support from Republican voters. Chan, on the other hand, had to face her demons and apologize for fueling anti-Asian attitudes.
Although some may argue that we live in a post-racial generation, we are, in many ways, no different from our predecessors, as remarks like these show. Mass media, which alternately stereotypes and ignores Asians and Asian-Americans, has not caught up with the progress that Asians have made in America over the past 200 years. When Asians and their culture are seen as marketable commodities, as Oakley's new sunglasses line suggests we are, our progress seems to be for naught.