My Story Starts As An Orphaned Baby Left to Die On the Side Of the Road in War-Torn Vietnam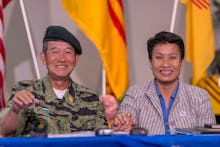 I am almost 42 years old, but until one year ago, I barely knew anything about my background.
My adoptive father, Tsgt James Mitchell, U.S. Air Force, was stationed in DaNang, South Vietnam at the U.S. Air Base from 1971 to 1972. Assigned to the chapel as a chaplain's assistant, he would frequently visit the orphanage to bring supplies, gifts, and clothes to the nuns.
As the nuns told him stories about the crying infants before him, one stood out. That was me. 
He was told that I had been abandoned on the streets of DaNang, found in a gutter, and that a random person brought me to the orphanage where the nuns gave me the name of Tran Thi Ngoc Bich.
To my dad, it was love at first sight. 
In September of 1972, I became one of the lucky orphans to adopted and brought to the U.S. to meet my new mother, Lucy Mitchell. My name was legally changed to Kimberly Mitchell. Because my father was still serving on active duty in the Air Force, for the next few years, we were stationed at Cannon Air Force Base in Clovis, New Mexico and at Lackland Air Force Base in San Antonio, Texas. I was naturalized as a U.S. citizen in 1976, and in 1979, our family moved to Solon Springs, Wisconsin, where my father retired from the U.S. Air Force after 23 years of service. 
I grew up as a small town, all-American girl, in my mother's hometown right across the street from my grandparents. My grade school class boasted all of 22 students.
Unlike many of my school friends, I started to seriously think about a college education during my sophomore year. My father naturally thought the U.S. Air Force Academy in Colorado Springs would be an excellent choice for his only daughter. Dad's goal was derailed when I was selected to attend the Hugh O'Brien Youth Leadership (HOBY) Seminar during my sophomore year. At the conference, I met a retired Navy admiral, who talked to me about my interest in attending a service academy, and specifically the Air Force Academy. Aghast that the Naval Academy was not on my radar screen, he mailed me package of pamphlets, brochures, and an academic catalog with a description of all the various majors offered.  
This girl from a land-locked small town immediately fell in love with the sea. 
After a year of college-level academics, I graduated from the prep school in May 1991 and was given a month off before I was scheduled to report to the Naval Academy in late June. 
On June 13, 1991, while I was home in Solon Springs, my father, while working on our farm, was struck by lightning and killed instantly. It was a shock for our entire family. I had less than two weeks before I was due to report to the Naval Academy.  
I did report, though, and weathered a great first two months, but realized that my mother and brother needed help at home. The Naval Academy leadership couldn't have been more supportive during this time and agreed to allow me to resign my commission to return home. My advisors helped ensure a quick transition and in September 1991 I found myself back in Solon Spring.
One year later, I returned to the Naval Academy with the class of 1996. My four years there were filled with academics, sports and courses and demonstrations on how to be a leader.  In May 1996, I graduated with a degree in ocean engineering, and I was officially commissioned an Ensign in the U.S. Navy.
I chose the Surface Warfare Community to begin a career being an officer onboard Naval ships following graduation, and following basic Surface Warfare Officer training in Newport, RI, began various sea duty assignments in Norfolk, VA. The Navy issued me order to Washington, D.C., as part of the Washington Staff Navy Intern Program in August 2000. As part of this program, I received my Master's in organizational management from George Washington University, and I was assigned three different internships with three different staff in the Washington, D.C. area. 
Everyone remembers what they were doing when our country was attacked on September 11, 2001. I'm no different. I was in my second internship at the U.S. Department of State as the Iraq Sanctions Officer. I had friends at the Pentagon who died that day, and for me, that day reminded me of why I chose to serve, to help do my part in protecting our homeland, the land that I loved so much.   
Following graduation from GWU, I completed my department head tours in Pearl Harbor, HI and in Bahrain. In 2006, I returned to the U.S. and was assigned to the Navy International Program Office to conduct foreign military sales on behalf of the U.S. Navy. I'd now travelled around the world, starting in Vietnam as a child and returning to Asia as an adult with the U.S. Navy.
For the last two years of my 17-year Naval career I was privileged to be assigned to the Office of the Chairman of the Joint Chiefs of Staff, as the Deputy Director of the Office of Warrior and Family Support. The mission of our office was to align the myriad support that existed within communities and to help them focus on the specific needs necessary for successful transition and reintegration for our service members, veterans, military families and families of the fallen. 
In August 2012, I made one of the biggest decisions of my life.
I loved working with the communities and helping veterans reintegrate back into society. My boss, Col. David Sutherland, was resigning to found the Dixon Center for Military and Veterans Community Services, and he asked me to be his co-founder. This would be an entrepreneurial organization and an opportunity to make a difference in peoples' lives, building from the ground up. I chose to resign my commission from the U.S. Navy and strike out with Dave. 
It's been just over one year and I don't regret my decision at all. Together with our partner, Easter Seals, Dixon Center has continued the mission we started at the Joint Chiefs Office to get communities to work together, consolidate their resources to make a bigger, more collective impact and provide effective resources focused on long-term, sustained, successful transition and re-integration for our veterans and military families.
And that would normally be how I'd end my story.  
But my story, like many of yours, took an unexpected twist.   
In October 2012, I received an email about a man living in Albuquerque, New Mexico who claimed to be the person who brought me as a crying infant to the Sacred Heart Orphanage in Vietnam. A few months prior, I had been featured in a magazine written in Vietnamese and distributed throughout the U.S. Vietnamese community. This man claimed to have read my story and recognized my name. I didn't believe a word. It had to be a scam.
But many phone calls and correspondence later, my attitude changed. I came to believe him and decided to travel to Albuquerque to meet Bao Tran and his family. He told me that a Vietnamese evacuee found me alongside a road leading out of Quang Tri clinging to the body of my dead mother. This man came across Bao Tran's South Vietnamese Marine Company and gave him to Bao Tran. For reasons he has never explained — but for which I am so thankful — he took it upon himself to take this child and see her to safety at the Sacred Hearts Orphanage in DaNang.  
On March 29, which also happened to be Good Friday of Easter Weekend, I met the man who played a huge but unknowing role in where I am today. I went into the meeting thinking that it would be neat to meet this kindly stranger.
But when I met him, it turned into so much more. This man, this stranger, had taken time to save the life of a child he didn't know. Because of his one act of kindness, I have been able to live successfully here in the U.S., serve my country, and now give back.
I later learned that March 29 happens to be Vietnam's Veterans Day — the anniversary of the end of the Vietnam War. Was it fate that decided we would meet on this day? I like to think so. 
We all have our own unique stories. This is mine. I hope it inspires you to follow your dreams by working hard and setting goals.  And don't be afraid to look back and celebrate where you came from. 
My past, as it turns out, is now a huge part of my present.