"Delightful" Little Blue Robots Will Teach Youngsters How to Code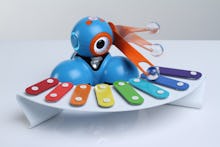 Children born in the Information Age should know basic computer programming skills. It's an essential skill, a skill our nation's schools don't take seriously enough. Kids are likely to whisk off with their high school diplomas without learning even the most basic concepts.
Thanks to Play-i, tiny one-eyed robots will soon take steps to fill this conspicuous digital literacy void.
The remarkable blue robots, Bo and Yana, are the brainchild of engineers hailing from Apple, Google and Amazon. Their goal is to provide amusing way for kids to immerse themselves in coding. "We are inventors, designers, programmers — but above all, we are parents ourselves," the website proclaims.
Imagine: Tiny blue androids zipping through living rooms across the country. Children as young as 5 years old will be guiding their every move.
It might seem odd. But is it really? In 21st century America, we live and breathe computers. Over 50% of Americans own smart phones and 90% own computers. And we've only hit the tip of the iceberg. Computer literacy is as essential as reading and writing in our high-tech economy.
Yet the vast majority of high schools fail to teach computer science. Last year, less than 2%  of high school Advanced Placement students took the computer science exam. It's puzzling. Why is the 21st century technological empire so behind the times? Computer literacy belongs among biology, calculus, and physics classes. No question. But while sites like CODE have incited action, schools are still slow to adapt to the technological climate.
Don't sweat it. The private sector is way ahead of the curve.
Play-i forged a fun, easy way for children to foster an active interest in computer programming. Children use the visual programming languages Scratch & Blockly for "drag-and-drop interfaces" by swiping a tablet-like screen with their little fingers and observing the results. Bluetooth LE wirelessly connects the two gadgets.
Children won't realize how much they're learning.
The wheeled robot Bo has his heart set on adventures. The stationary Yana, on the other hand, is a vivid storyteller. Children use little tablets to guide and "program" their course. The gadgets are threaded with music, animation and stories. The two robots even utilize "RoboSenses" keen enough to play games like hide-and-seek and soccer.
Beneath the visual interface, kids can take a peek at computer codes. When kids itch for a challenge they can unlatch their budding abilities and write their own.
If you want to see these enchanting, tiny androids in action, give this video a whirl:
Excited? The robots will be released in 2014.