Veterans Day 2013: Watch This Homeless Man's Amazing Transformation in Just 3 Minutes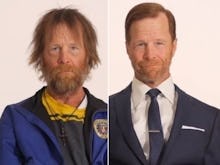 This short video captures the transformation of United States Army veteran Jim Wolf.
Wolf, who struggles with alcoholism, poverty, and homelessness, teamed up with Michigan filmmaker Rob Bliss and Degage Ministries to create a video showcasing his incredible makeover. In it, Wolf sits in silence as a team of stylists trim his beard, cut and color his hair, fix his eyebrows, and outfit him in a new suit and tie. As of today, the video, which was released in honor of Veteran's Day, has received nearly 10 million views on YouTube.
"The homeless are people we ignore every day," Bliss told the Blaze, adding that he wanted to show how anyone "can look like they're meant for the cover of GQ. If I can only get people to look at any homeless person on the street and see the mirror image of them — the image of someone who would look socially acceptable — realize that potential, that 'what if,' and root for their success."
While the changes in Wolf's appearance are evident, the transformation of his outlook on life is more powerful. Since the makeover, he has secured housing and has started attending Alcoholics Anonymous meetings.
The cosmetic shift confirmed to him that he still matters, that people do care about him, and that all is not lost. Sometimes, a little bit of hope and dignity is all that is needed to change someone's life.