5 Midterm 2014 Elections That Should Have Republicans Quaking in Their Boots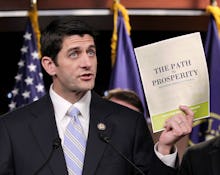 In 2010, Tea Party Republicans dominated the midterm elections, bolstered by disillusionment with President Obama's first years in office. Now it looks like the tables may have turned. Here are five races where Democrats could take over traditionally Republican districits.
1. Wisconsin District 1: Paul Ryan vs. Amar Kaleka or Rob Zerban
Kaleka's emergence as a serious candidate gives Democrats a viable opportunity to unseat Rep. Ryan in one of Wisconsin's swing districts. Ryan, Mitt Romeney's 2012 running mate, won his last election in 2012 by a comfortable margin, running away with 55% of the votes. However, the government shutdown, which Kaleka blames on Ryan, may make this a competitive election. Kaleka isn't guaranteed to be the Democratic nominee, as Democrat Rob Zerban, who lost to Ryan in 2012, is running again.
Kaleka is the son of Satwant Singh Kaleka, one of the victim's in the 2012 Sikh Temple Shooting in Wisconsin. Ryan's eight terms as the representative for District 1 make the challenge to beat him daunting, however with the lowest approval rating of his career and blame for the shutdown looming over his head, this year will make or break Ryan's chances for a presidential run in 2016.
2. Pennsylvania District 15: Charlie Dent vs. TBD
Rep. Dent represents a rare breed in the Republican party: he's a conservative who isn't afraid to cross party lines. His stance on siding with the Democrats during the shutdown could hinder him in the Republican-dominated district. Although no one has come forth to challenge Rep. Dent as of yet, this region has shown swing statistics in presidential elections.
Despite Dent's conservative colleagues blaming him for refusing to push for a delay in the implementation of Obamacare, Dent has stood by his beliefs and his approval rating remains healthy.
3. Illinois District 16: Adam Kinzinger vs. Randall Olsen
Olsen, who has never run for political office before, faces 35-year-old Adam Kinzinger in what could be a possible upset by Democrats in a Republican district. Kinzinger easily won in 2012 over Democrat Wanda Rohl in the (then) newly redrawn district, by a margin of 24%. However, despite Olson's inexperience, he could pose a threat to win the district.
4. Michigan District 6: Fred Upton vs. Paul Clements
Upton has represented Michigan's District 6 for 20 years, however his victory margins have been declining every election, and his 2012 victory saw him win with 54.6% of the vote against Democrat Mike O'Brien, the slimmest margin of victory yet for Upton, who must first go through primary challenger Jim Bussler this time around. The Democrats will be represented by Paul Clements, a political science professor at Western Michigan University.
5. New Jersey District 2: Frank LoBiondo vs. William Hughes Jr.
William Hughes Jr. is the son of Bill Hughes, the Democrat who who represented New Jersey's District 2 before LoBiondo won the seat in 1994. LoBiondo has consistently won each general election comfortably, but this may be the year another member of the Hughes family takes the reins. LoBiondo's last loss was to Bill Hughes himself; maybe his son can pull off the same feat.