10 Songs That Have Gotten Every 20-Something Over a Breakup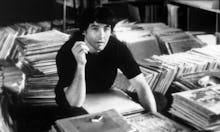 This is you: you are going through a breakup, leaving your apartment only to run to 7-11 to get a pint of Ben & Jerry's, dissecting every conversation you've ever had with your past person in the hopes of finding where it went wrong, constantly refreshing his Facebook profile in the wee hours of the morning just in case he is tagged in a picture with another girl between the hours of 1:06 a.m. and 1:08 a.m., and accepting the fact that you'll never find love again.
Chances are there is a good reason for your split. Like my mother always said, "There are plenty of fish in the sea." Almost everyone dwells on a breakup. But, with the right music, this could be you: someone who doesn't dwell on the past and realizes that your breakup was probably a positive thing in the long run, that it is no longer in your territory to care what is being posted on his Facebook profile, and that there are no better remedies in the world — not even ten pints of Phish Food — than time, inner reflection, and a support system. To help you along are the following 10 songs as wonderful complements to such remedies: 
1. "I Know It's Over" — The Smiths
In this song, the singer loved a girl so easily and it didn't end well. He recognizes that hating her would accomplish nothing, so he wishes her and her future partners well. This is the way to leave the breakup as the bigger person.
2. "I Will Survive" — Gloria Gaynor
This song is pure power and motivation to get over your ex-significant lover. You will survive, even if this particular relationship didn't work out.
3. "Song for the Dumped" — Ben Folds Five
This is a pretty angry breakup song. The singer essentially asks for everything back that he gave her in the relationship ("give me my money back, bitch"). 
4. "You Oughta Know" — Alanis Morissette
One of my personal favorites, this brutally honest and impactful song is for every guy-hater out there. You'll be strutting down the street and passing on all guys in NO time.
5. "Pictures of You" — The Cure
If you're not looking to turn away from love completely, this song helps you keep positive memories of what you did have in the hopes of finding something similar in the future. It's got a somber instrumental intro with deep lyrics to follow. 
6. "Blame It On Me" — Chrisette Michele
Her calm voice and lyrics acknowledge that you can stay strong even while calling the relationship quits. She'll give you hope that you can get through it.
7. "Against All Odds" — The Postal Service
This song is about what everyone feels after a breakup. Realizing that you are one out of millions people going through the same thing means there's light at the end of tunnel. For a more classic version, try Phil Collins' rendition.
8. "Breakin' Up" — Rilo Kiley
The intro pretty much says it all: breaking up isn't the end of the world. 
"It's not as if New York City /
9. "Piece of My Heart" — Janis Joplin
She acknowledges that, even though she will love her man for some time, she knows she deserves better. She begs him to stop "taking a piece of her heart." Her raspy voice alone makes you want to hate your past lover immediately. 
10. "So What" — P!nk
Despite your breakup, P!nk thinks you're still a rock star and that he's a tool. You can do it!