Typhoon Haiyan's Aftermath in 12 Heart-wrenching Photos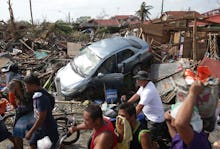 Typhoon Haiyan is being called possibly the strongest tropical cyclone in recorded history. The typhoon, which hit the Philippines over the weekend, was three and a half times more powerful than Hurricane Katrina in 2005. Wind gusts were reported blowing at 155 mph, and a 16-foot storm surge wiped out entire coastlines. Haiyan has destroyed huge parts of cities located close to the ocean. The damage is devastating. International Committee on the Red Cross spokesman David Pierre Marquet said the number of dead in the Philippines could be close to 10,000. Alfred Romualdez, mayor of the city of Tacloban, estimates that 10,000 people have been killed on Leyte island alone.
Doctors need medical supplies, the injured need hospital space, survivors desperately need food and water, and thousands of dead bodies in the street need removal. Whole cities, businesses, and economies need rebuilding. The United Nations, U.S. military, and other organizations are trying hard to funnel in much-needed supplies. The storm is now making landfall in Vietnam, and already six have been reported killed there. Here are some pictures to put into context just how bad Typhoon Haiyan is.
1. Typhoon Haiyan's building storm surge:
The storm hits Legazpi City in Albay Province.
2. A house is instantly crushed:
A house in Legazpi City is knocked over by powerful waves.
3. A mother gives birth amidst the chaos:
Emily Ortega gave birth to Bea Joy at an improvised clinic in Tacloban.
4. Survivors walk past rubble and bodies:
Survivors of the storm in Tacloban City cover their faces to avoid the smell of dead bodies. A C-130 flies in to deliver supplies.
5. Blocking the smell of bodies:
People in Tacloban cover their faces with their hands to avoid smelling the dead bodies that litter the area.
6. A boat washed up on shore:
A large boat thrown on shore by the 16-foot storm surge.
7. Seeking light in the uncertain night:
Survivors huddle in the dark, as electricity has been cut in Tacloban City.
8. A body lies among the debris:
A body lies wedged among some debris in Tacloban. A man looks on in the distance.
9. The displaced seek attention at a makeshift clinic:
Thousands of people seek food and medicine in Tacloban. The storm destroyed an estimated 70-80% of everything in the area.
10. Kids drag supplies to the wounded:
Residents of Tacloban drag relief goods to friends and family.
11. Lands flooded and destroyed in the aftermath:
An image from a Philippine Air Force helicopter of the destruction in Guiuan. Authorities put the number of affected at 2 million.
12. An image of Haiyan from space:
NASA provided this image of Haiyan from orbit. Yes — it's that huge.