Meet Richard Overton, America's Oldest Living Veteran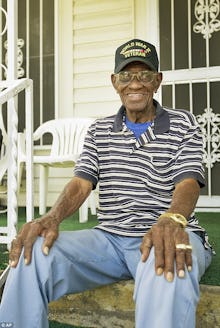 As it turns out, the key to a long life is simply "staying out of trouble." Consuming whiskey and tobacco doesn't hurt either.
That's the advice of Richard Arvine Overton, who, at 107 years old, is the oldest living U.S. military veteran on record. Overton, who resides in Austin, Texas, spends his time gardening, hanging out with his 90-year-old girlfriend, smoking up to 12 cigars a day, and drinking whiskey with his morning coffee.
"Whiskey's a good medicine," Overton told Fox News in May. "It keeps your muscles tender."
But make no mistake, Overton's life consists of far more than simple hedonism. He goes to church every Sunday, and takes no medication other than a daily dose of aspirin. He says he can walk, talk, and drive like he could at 40.
"You got to keep moving," Overton said in an interview with KVUE on May 11, his 107th birthday. "You don't sit down and watch TV all the time."
And Overton has done plenty of moving in his lifetime.
Born in Bastrop County, Texas, he served with the army in Guam, Hawaii, Palau, and Iwo Jima during World War II. After returning home in 1945, he sold furniture and later worked for the Texas Treasury Department in Austin, where he built the house he still lives in today. He retired from the treasury at 85.
Overton received a box of cigars and fervent applause at a Veterans Day ceremony in Austin last week. On Monday, he had breakfast with President Barack Obama and Vice President Joe Biden in D.C., and attended a wreath laying ceremony at Arlington National Cemetery, KEYE-TV reports. This is Overton's second time in the nation's capital. His first trip was i May, when he visited the WWII Memorial the Martin Luther King, Jr. Memorial.
"I was very, very happy," Overton said about the visit to Fox News. "I'm able to stand up and do anything. My mind is good, so I'm able to do what I want."
And as far as his advice for today's youth?
"Stay out of trouble, I guess. Tend your own business. Don't [let] somebody gonna to kill you now. They shootin' at everybody now. Every night, they shootin' somebody, so you got to be careful," said Overton.
Solemn advice from the nation's oldest vet on Veteran's Day.