Yet Another Peaceful Gun Control Meeting Turns Awful When 40 Scary Texans Show Up With Their Guns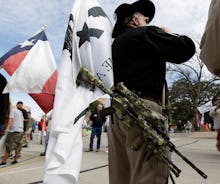 On Saturday, 40 members of gun rights advocacy group Open Carry Texas (OCT) met their stated goal of encouraging Texans to feel safe around rifles and shotguns by parading around a parking lot with their arms drawn and intimidating a group of four mothers at a Dallas grill. 
The mothers in question were attending a meeting of the organization Moms Demand Action For Gun Sense in America, a non-partisan organization that was established after the Sandy Hook Elementary School shooting to promote what it calls "common-sense gun reforms" like requiring background checks for gun purchases, and asking retailers like Starbucks to ban guns from their stores.
While OCT could have opted to spend their Saturday at one of the five "gun-friendly zones" listed on their website, including Bite the Bagel Deli Café and TCBY, they instead chose to visit Blue Mesa Grill, where they in no way contravened their message about the normalization of open carrying. While the grill's owner reportedly did not call 911 for "fear of inciting a riot," it's equally likely that the owner embraced the non-threatening, two-hour-long presence of semi-automatic weapons in his parking lot.
The Blue Mesa Grill standoff isn't the only public protest in which the brave, responsible members of OCT engaged recently. Late last month, state troopers arrested two OCT members for carrying replica black powder revolvers during a protest in front of the Texas Capitol building. (OCT responded by claiming that the pistols are not considered firearms, and noted, "We had flagpoles that we could've beat[en] people with, too.") In March, OCT President Christopher "C.J." Grisham was arrested for openly carrying his AR-15 rifle on a hike in Temple, Texas. 
Nothing will convince the people of Texas, or America, to accept the open carrying of rifles and shotguns like the intimidation of lunching mothers, narrow interpretations of what constitutes a firearm, and what the words "calculated to cause alarm" actually mean. The nominally law-abiding members of OCT clearly have a keen eye for public comment. We can only hope to see more of the organization's unnecessarily incendiary protests, and its exuberant post-protest celebrations at that most hallowed of American institutions, Hooters.