USPS Sunday Delivery is Amazon's First Step to Global Domination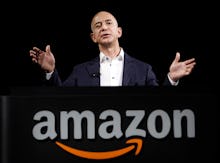 On Monday, corporate leviathan Amazon.com came a step closer to dominating the federal government and instituting martial law when it cowed the United States Postal Service (USPS) into delivering Amazon packages — and only Amazon packages — on Sundays. 
The news comes despite the fact that the troubled USPS, which hemorrhaged $15.9 billion last year, has continued its pleas to suspend its weekend delivery services, imploring the American public to make the pain stop. While the Sunday Amazon deliveries are currently limited to New York City and Los Angeles, they will reportedly expand to New Orleans, Houston, Dallas, and Phoenix next year, as Amazon founder and CEO Jeff Bezos tightens his tentacle-like grip on the American economy.
Amazon is already well known for its cavernous, Hangar 51-like fulfillment centers, in which thousands of exhausted and non-unionized workers scramble like ants to package the off-brand hand sanitizer, SpongeBob Snuggie for Kids and comical banana slicer that you absolutely need delivered to your doorstep within 48 hours. However, Amazon's insidious influence extends far beyond conscripting the USPS's 500,000 employees into some kind of regimented, holiday-present-toting postal army.
Amazon Web Services, the company's cloud computing platform, controls 1% of all internet traffic in North America, and hosts the services of a number of major tech companies, including Pinterest, Spotify, Foursquare, Shazam, and all of Netflix's streaming. Whether or not they realize it, one-third of all web users are estimated to access the Amazon cloud each day. And Bezos' terrifying quest for mind control doesn't end online. Last month, Bezos purchased the Washington Post for $250 million, and announced Amazon's foray into original television programming. His "notoriously confrontational" company has even found a way to monetize fan fiction.
The USPS's exclusive Sunday deliveries will likely be a boon for the traditional arm of Amazon's business and its global dominance as Americans scramble to purchase last-minute Christmas and Hanukkah presents over the coming weeks. Postmaster General Patrick Donahoe, for one, welcomed his new Amazon overlords, wringing his hands and stating, "The future of package delivery is a seven-day-a-week schedule," if only because Amazon says so.