These 2014 Midterm Elections Candidates Deserve Millennials' Support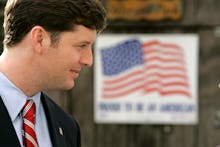 With the recent midterm elections done and dusted, many representatives in the House are preparing for an exacting 2014 election. At stake will be all 435 seats in the House of Representatives along with the title of speaker of the House. So which House members are at risk of losing in 2014? To be frank, many. But more particularly, which vulnerable members, if reelected, are likely to be of service to (the majority of) millenials? The following is a list of millennial-friendly representatives who are facing tough battles in next year's election, as well as their district's Cook Partisan Voting Index (a calculation of how strongly a district leans towards the Republican or Democratic Party).
1. Ron Barber (D-Ariz. 2nd District) — Cook Partisan Voting Index: R+3
Gabrielle Giffords' successor, Ron Barber, won Arizona's 2nd district by less than a one-point margin in 2012. His time in office, though brief, has shown his willingness to reach out to the other side of the aisle; he has sided with Speaker Boehner on 10 of his 16 votes. In addition, his record as a House member has shown that he opposes defining traditional marriage and tax cuts for the wealthy. In 2014 Barber will most likely vie with Republican Martha McSally — the same challenger he faced two years ago. Mitt Romney captured Arizona's 2nd district in 2012 by a slim 2%.
2. Patrick Murphy (D-Fla. 18th District) — Cook Partisan Voting Index: R+3
The 30-year-old, Republican-turned-Democrat Patrick Murphy replaced Tea Party incumbent Allen West in 2012. That same year, the Huffington Post named him as a "pro-LGBT rights," fiscally responsible, and moderate Democrat. Rep. Murphy has advocated for a secure border as well as a fair path to citizenship for law-abiding, undocumented workers. Further, he has stated that a long-term funding solution to Social Security is needed for current and future seniors. In 2012 he beat West by targeting his oponent's "extremism and radicalism." Consequently, it is almost certain the congressman will use the recent government shutdown to his advantage, ascribing blame to Tea Party members and the far right. Murphy will be fighting an uphill battle in 2014, but if he has something going for him, it's his reputation as a moderate. If the latest midterm revealed anything, it's that being a moderate may pay off. 
3. Charlie Dent (R-Pa. 15th District) — Cook Partisan Voting Index: R+2
The representative of a bona fide swing district that swung towards Obama in 2008 and Romney in 2012, Dent is in for a tough reelection race in 2014. His primary election contender, much less his general election contender, remains unknown. However, this much is certain: Dent's moderate viewpoints have drawn criticism from his Republican colleagues. He has been quoted in support of the Employment Non-Discrimination Act (ENDA) and voted to reopen the government and raise the debt ceiling after the October shutdown. Speaking on ENDA, Dent asserted, "Younger voters would be much more accepting of the Republican Party if we were to adopt legislation of this type."
4. Reid Ribble (R-Wis. 8th District) — Cook Partisan Voting Index: R+2
Reid Ribble is yet another viable choice for millennials. In contrast to many of his House allies, such as Paul Ryan (R-Wis. 1st District), Ribble voted to reopen the government despite, as he concedes, the political hazards of such an action. "Having a functioning government is simply better for the economy," Ribble said last week. Moreover, he has claimed that Social Security must be reformed, citing the need for a raise in the retirement age, an adjustment in the cost of living formula, and a change in means testing. Indeed, his approach to Social Security could cost him the senior demographic. Still, it will probably resonate with many millennials in his district.