Why Thousands Of Young Japanese Men Are Locking Themselves in Their Rooms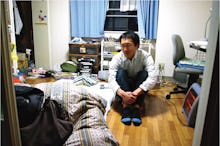 Editor's Note: This post is part of a sponsored series by Byliner.com. Byliner partners with the world's best writers to bring you their stories.
For the first piece in the series, we've selected the following strange story of the deeply bizarre Japanese phenomenon of young, mostly male shut-ins called hikikomori. What would compel so many Japanese young men to lock themselves in their rooms, skipping out on sex, friends, work, and even school, until they slowly deteriorate all social skills? This disturbing trend might hit closer to home than you'd think – it has a ring of millennial post-college daze. Though it's particular to a culture that defines success and failure in different terms than we do in the United States, in these difficult economic times it's hard not to read Maggie Jones' story and think of your brother or best friend, back at home and out of work, playing video games long into the night. Very scary indeed.
Read full story here or see excerpt below.
EXCERPT – "One morning when he was 15, Takeshi shut the door to his bedroom, and for the next four years he did not come out. He didn't go to school. He didn't have a job. He didn't have friends. Month after month, he spent 23 hours a day in a room no bigger than a king-size mattress, where he ate dumplings, rice and other leftovers that his mother had cooked, watched TV game shows and listened to Radiohead and Nirvana. "Anything," he said, "that was dark and sounded desperate."
I met Takeshi outside Tokyo not long ago, shortly after he finally left his parents' house to join a job-training program called New Start. He was wiry, with a delicate face, tousled, dyed auburn hair and the intensity of a hungry college freshman. "Don't laugh, but musicians really helped me, especially Radiohead," he told me through an interpreter, before scribbling some lyrics in English in my notebook. "That's what encouraged me to leave my room."
The night Takeshi and I met, we were at one of New Start's three-times-a-week potluck dinners at a community center where the atmosphere was like a school dorm's—a dartboard nailed to the wall over a large dining table, a worn couch and overstuffed chairs in front of a TV blaring a soccer match. About two dozen guys lounged on chairs or sat on tatami mats, slurping noodles and soup and talking movies and music. Most were in their 20's. And many had stories very much like Takeshi's.
Next to us was Shuichi, who, like Takeshi, asked that I use only his first name to protect his privacy. He was 20, wore low-slung jeans on his lanky body and a 1970's Rod Stewart shag and had dreams of being a guitarist. Three years ago, he dropped out of high school and became a recluse for a miserable year before a counselor persuaded him to join New Start. Behind him a young man sat on the couch wearing small wire-frame glasses and a shy smile. He ducked his head as he spoke, and his voice was so quiet that I had to lean in to hear him. After years of being bullied at school and having no friends, Y.S., who asked to be identified by his initials, retreated to his room at age 14, and proceeded to watch TV, surf the Internet and build model cars—for 13 years. When he finally left his room one April afternoon last year, he had spent half of his life as a shut-in. Like Takeshi and Shuichi, Y.S. suffered from a problem known in Japan as hikikomori, which translates as "withdrawal" and refers to a person sequestered in his room for six months or longer with no social life beyond his home. (The word is a noun that describes both the problem and the person suffering from it and is also an adjective, like "alcoholic.") Some hikikomori do occasionally emerge from their rooms for meals with their parents, late-night runs to convenience stores or, in Takeshi's case, once-a-month trips to buy CD's. And though female hikikomori exist and may be undercounted, experts estimate that about 80 percent of the hikikomori are male, some as young as 13 or 14 and some who live in their rooms for 15 years or more.
South Korea and Taiwan have reported a scattering of hikikomori, and isolated cases may have always existed in Japan. But only in the last decade and only in Japan has hikikomori become a social phenomenon. Like anorexia, which has been largely limited to Western cultures, hikikomori is a culturebound syndrome that thrives in one particular country during a particular moment in its history.
As the problem has become more widespread in Japan, an industry has sprung up around it. There are support groups for parents, psychologists who specialize in it (including one who counsels shut-ins via the Internet) and several halfway programs like New Start, offering dorms and job training. For all the attention, though, hikikomori remains confounding. The Japanese public has blamed everything from smothering mothers to absent, overworked fathers, from school bullying to the lackluster economy, from academic pressure to video games. "I sometimes wonder whether or not I understand this issue," confessed Shinako Tsuchiya, a member of Parliament, one afternoon in her Tokyo office. She has led a study group on hikikomori, but most of her colleagues aren't interested, and the government has yet to allocate funds. "They don't understand how serious it is."
That may be in part because the scope of the problem is frustratingly elusive. A leading psychiatrist claims that one million Japanese are hikikomori, which, if true, translates into roughly 1 percent of the population. Even other experts' more conservative estimates, ranging between 100,000 and 320,000 sufferers, are alarming, given how dire the consequences may be. As a hikikomori ages, the odds that he'll re-enter the world decline. Indeed, some experts predict that most hikikomori who are withdrawn for a year or more may never fully recover. That means that even if they emerge from their rooms, they either won't get a full-time job or won't be involved in a long-term relationship. And some will never leave home. In many cases, their parents are now approaching retirement, and once they die, the fate of the shut-ins — whose social and work skills, if they ever existed, will have atrophied — is an open question."
Read the full story here.