Pope Francis Tells American Clergy to Tone Down Rhetoric On Abortion and Other Social Issues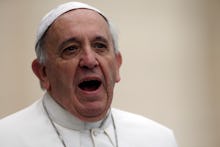 Pope Francis has made waves from the Holy See since being elected to the Catholic Church's top job. As the first Latin American to hold the prestigious position, the Argentine pontiff's outlook is no doubt more international than any of his predecessors, but he is proving just as keen to leave his mark on the Catholic Church in the developed world.
While increasing secularism and disenchantment with the thousand-year-old institution are turning younger generations from the Church in Europe, Francis seems concerned that American Catholicism's most dire problem is its "narrow and alienating" focus on a number of hot-button political issues such as abortion.
Addressing American bishops on Monday at the first national meeting since the new Pope was elected, Carlo Maria Vigano, the Vatican's U.S. ambassador, told bishops they should not "follow a particular ideology" and focus on making the Church more welcoming. Relaying information from a recent audience with the Pope, Vigano reiterated that, "The Holy Father wants bishops in tune with their people ... pastoral bishops, not bishops who profess or follow a particular ideology."
The remarks coincide with the end of New York Bishop Timothy Dolan's three-year term as conference president. Dolan's peers will chose his influential successor on Tuesday at their meeting in Baltimore from a slate of 10 nominated bishops. The Church is also currently mired in a drawn-out battle with the Obama administration over a requirement that employers provide health insurance that includes contraceptive coverage.
With the tone shifting at the Vatican, today's elections will be telling of whether American bishops are ready to change with their Pope. According to Rocco Palmo, editor of Whispers in the Loggia, "The presidency is a significant position, and Dolan's term shows how significant it can be." In addition to choosing the conference president, bishops will also be selecting leaders for various conference committees that play an important role in formulating policy.