The Republican Alternative to Obamacare is a Sweet Kegger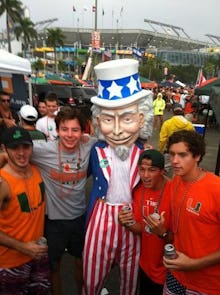 Remember that series of insanely creepy anti-Obamacare ads featuring a disturbing, smiling Uncle Sam playing doctor with various young people's private parts? Produced by Generation Opportunity — a Virginia-based, Koch-brothers-funded advocacy group that's trying to convince young people to throw caution to the wind, chug a cold one, and say "Screw you, Nobama!" to purchasing health insurance — these ads had something important to say about flag-wearing dudes in giant plastic masks and your millennial genitals (millennitals?).
Note the speculum. Eww.
Something you might not have noticed about those ads: the young people in them were receiving subsidized health care. Double eww, if you're a Republican!
Well, now sleazy Uncle Sam (whose slogan has presumably changed from 'Uncle Sam wants you!' to 'Uncle Sam wants you') is taking his opt-out-of-Obamacare message to another subset of young people: Florida frat bros.
A tailgate party at the University of Miami-Virginia Tech football game at UM on Saturday had a DJ, this much free beer, hard liquor, pizza, and a personal visit from the man himself, who took the time to get some terrifying mugshots with some hard-drinking sorority girls:
So, there you have it: one leading anti-Obamacare organization's alternative to Obamacare is not getting health insurance while getting wicked trashed with your bros, while a creepy dude in a mask stares at you.
Well, that probably isn't the Republican alternative to Obamacare, but you wouldn't know it under all the loud music and free beer. In an email to the Tampa Bay Times, Generation Opportunity communication director David Pasch said that: 
"We rolled in with a fleet of Hummers, F-150's and Suburbans, each vehicle equipped with an 8' high balloon bouquet floating overhead. We hired a popular student DJ from UMiami (DJ Joey), set up OptOut cornhole sets, beer pong tables*, bought 75 pizzas, and hired 8 'brand ambassadors' aka models with bullhorns to help out ... *Student activists independently brought (lots of) beer and liquor for consumption by those 21 and over. Oh yeah, and we educated students about their healthcare options outside the expensive and creepy Obamacare exchanges."
Yeesh.
To be fair, the sign-up strategy has been really, really weird and vaguely condescending at times too: