Fascinating Photos Peek Inside Women's Bedrooms Around the World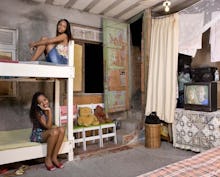 Socioeconomic status is something that is evident all around us. It shows up in our day-to-day actions, how we dress, and how we make our homes. But only when these daily actions are shown to us in an unconventional perspective do they really become visible. The Mirrors and Windows project by Riverboom's Gabriele Galimberti and Edoardo Delille is a mobile and transnational photography exhibit in which young women ages 18 to 30 are asked to pose in a simple manner in their bedrooms. 
The images are only more powerful due to the geopolitical landscapes of the countries that are presented through the lens of a young woman's home. As humans in general, I think it's safe to say that we like to have images and trinkets of ours displayed in our bedroom as a means to make it truly feel like "ours." As a young feminist, I feel I have to acknowledge that the photographers conducting this exhibit are male (as the Riverbloom collective is all male) so there is something to be said about the "male gaze." For now, I am hopeful for the possibilities this project creates, as I wonder if this would lead to a role reversal of a similar project; just with female photographers and male subjects.
Much can be learned from such a simple setting. As Edorado Delille's website states,"the selection of the subjects photographed is not based on their looks or on the decor of their rooms, but on a desire to show how diverse these can be, as well as on the strength of the story behind them." The women who are displayed are also of different races, sexual orientations, lifestyles, religions, and class statuses. Mirrors and Windows beautifully showcases how, no matter how many social constructs have been imposed to make us see each other as different, it is in the simplest privilege of having a place to rest where the similarities are brought to the forefront. 
Below are just a few photos from the collection, and for the rest of the amazing shots, you can look here. 
Bogol, 19 from Cameroon (Photo by Gabriele Galimberti/Riverboom Ltd)
Gessiane and Jessica, 20 from Brasil. (Photo by Gabriele Galimberti/Riverboom Ltd)
Maaike, 29 from the Netherlands. (Photo by Gabriele Galimberti/Riverboom Ltd)
Ria, 29 from Italy. (Photo by Gabriele Galimberti/Riverboom Ltd)
Katelyn, 20 from New York, USA. (Photo by Gabriele Galimberti/Riverboom Ltd)