5 LGBTQ Rappers Who'd Gladly Rap Battle Eminem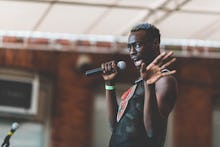 By now, most readers are familiar with the current controversy surrounding Eminem. On his latest single, "Rap God," off his new album Marshall Mathers LP 2, Em revisits the politically incorrect undertones that helped make him famous, particularly the rampant use of gay slurs in his lyrics.
Reactions are mixed. Most people are understandably outraged at his frequent use of homophobic language. Some critics noted that, given how far we've come with LGBTQ-related civil rights in the last 13 years, it's hard to believe Eminem is just as naive about the use of the slur today as he was when the original MMLP was released. More positive reactions to "Rap God" focus on Eminem's undeniable lyrical athleticism — the song is 6 minutes of mind-bending wordplay.
Yes, the word is wildly offensive. And yes, Eminem will surely go down as a rap god. But hip hop is not just for the "straights" anymore. The landscape has changed significantly since Em dropped his first bar. Hip hop has birthed a generation of LGBTQ rappers who aren't afraid to be themselves and can definitely hold their own in a lyrical sparring — even against Eminem.
1. Le1f
This Manhattan native is known as much for his Twista-like tongue-tying rapping ability as for his seapunk aesthetic and dance-floor ready hits. Le1f is actually more of a triple threat: wordsmith, trained dancer (hello, vogue), and producer (having produced rap group Das Racist's breakout hit, "Combination Pizza Hut and Taco Bell"). With his latest mixtape, Tree House, Le1f explores rap, R&B, and dance to create a genre-blending, chill-pop record.
Standout lyric: "I'm the kind of John closet dudes wanna go steady on / Toss my gems up, raise the bar, Yung Phenom / I make a neo-Nazi kamikaze wanna firebomb." (Le1f on "Wut")
2. Azealia Banks
Don't call her a "bisexual, lesbian rapper." In a New York Times profile last year Azealia Banks made it known that she doesn't subscribe to those terms. Whatever you call her (fashion muse, considering her heavy rotation with Alexander Wang and Chanel last fashion week; or outspoken, considering her constant Twitter beef), she'll probably retort with a rhyme that's 10 times as scathing as any label you can put on her.
Standout lyric: "Hey, I can be the answer/ I'm ready to dance when the vamp up / And when I hit that dip, get your camera / You could see I been that bitch since the Pamper." (Azealia Banks on "212")
3. Mykki Blanco
When Michael Quattlebaum, Jr. transforms into his (female) alter ego Mykki, other rappers beware. She has described her music as "Horrorcore and Riot Grrrl mixed with 5% lyricism." That's a combination that's sure to pique any artist's attention. If her Afropunk festival appearance this summer is any indication, she's ready to take the world by storm.
Standout lyric: "What the fuck I got to prove to a room full of dudes / Who ain't listening to my words cause they staring at my shoes?" (Mykki Blanco on "Wavvy")
4. Zebra Katz
Zebra Katz is no stranger to fan adoration. His break-out hit, released on Mad Decent, "Ima Read" achieved major fashion kudos when it soundtracked Rick Owens's Paris Fashion Week show last March. With his partner, Njena Reddd Foxxx, Zebra has been on a mission ever since to deliver his minimalist lyrics to the masses. 
Standout lyric: His lyrics are very minimal. His visuals are not:
5. Cakes Da Killa
Cakes Da Killa wants you to know there's more to queer urban culture than one documentary (that is, Paris is Burning). Indeed, his aggressive lyrics laid over trap, bounce, and EDM reveal the artistry in his music. Besides being one stylish dude, Cakes has actually been called the closest thing rap currently has to Lil Kim. You be the judge.
Standout lyric: "Hit me on grindr so I know where to find ya / Pull up to my crib in your new pathfinder / Smelling like sex with a twist of the ganga / That thing in your lap looking like it's a problem." (Cakes Da Killa on "Goodie Goodies")